Vyskúšali ste už niekedy lievance z kysnutého cesta? Ja len pred nedávnom a naozaj ma mrzelo, že som tento postup nepoznala už skôr. Tie lievance sú proste fantastické, nadýchané ako perinka a super jednoduché na prípravu.
Okrem toho, zasýtila som nimi doslova armádu ľudí, nakoľko boli u nás kamaráti mojich detí na návšteve a každému sa ušlo dostatok. Takže ak sa na mňa opäť raz bude chystať invázia detí, tak už viem čo pripravím :).
Ako príloha bola rýchlo urobená jahodová omáčka.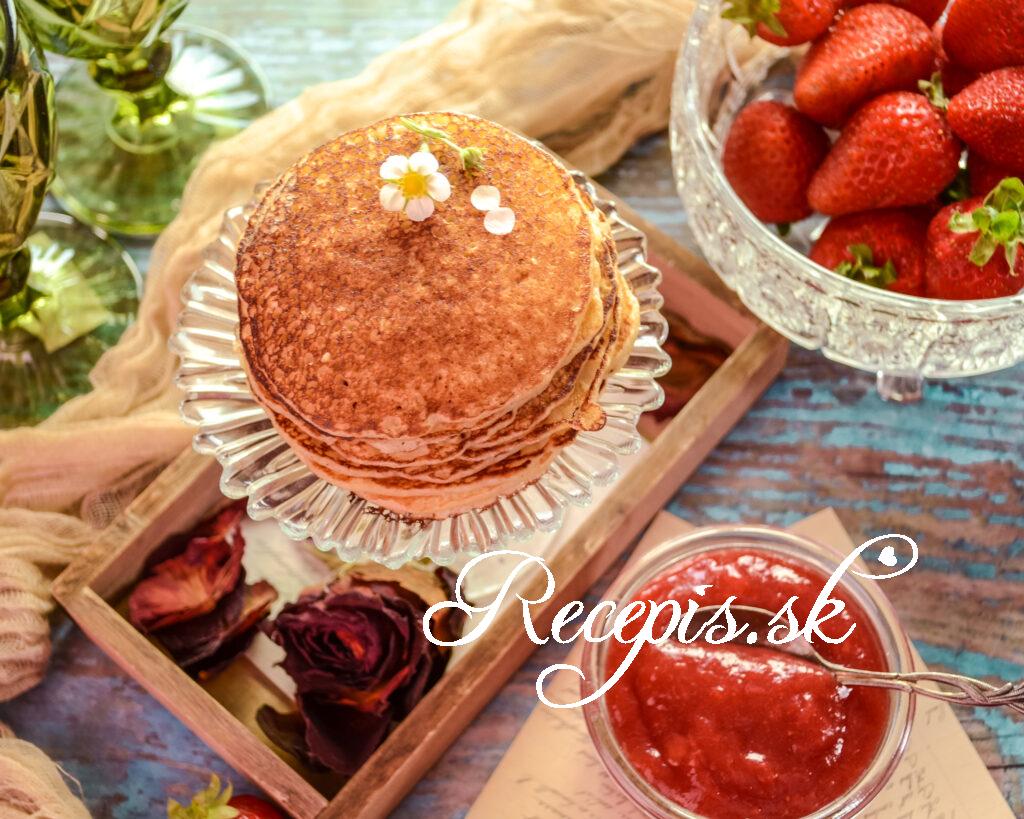 Suroviny na lievance:
20g čerstvých kvasníc
750ml mlieka (ovseného mlieka)
380g polohrubej múky
2 vajíčka
100g cukru
1 čl soli
1 banán
Suroviny na jahodovú polevu:
250g jahôd (kľudne aj mrazených)
4 PL cukru
250ml vody
2PL kukuričného škrobu
1PL vody
Príprava:
Začneme najskôr prípravou kvásku. Na to si rozdrobíme kvasnice do misky, posypeme ich 1 polievkovou lyžicou cukru a dobre premiešame a necháme stáť 5-10 minúzt až vznikne kvások.
Do vysokej misky (naozaj na to treba väčšiu misku :)) si dáme mlieko (ja som použila ovsené, ale samozrejme môžete použiť aj kravské), vajíčka a pridáme cukor, potom premiešame.
Potom preosejeme múku a pridáme kvások, sol a kdo chce, môže tiež pridať roztlačený banán (môžete tiež vynechať).
Potom všetko dobre premiešame, prikryjeme kuchynskou utierkou a necháme pri izbovej teplote pol hodinu oddychovať.
Potom na vymastenej panvici na strednom ohni pečieme lievance z oboch strán do zlatista.
Oheň by mal byť nastavený na nízkej teplote aby boli zvnútra pekne prepečené predtým než zvonku zhnedne.
Na jahodovú polevu dáve variť jahody s vodou a cukrom na 10 minút. Potom rozmixujeme ponorným mixérom do hladka.
V 1 PL vody rozmiešame škrob a prilejeme ho k jahodám. Zohrejeme až poleva zhustne.
Rada z času na čas pečiem bez vajec, tieto sa dajú mnohými spôsobmi efektívne v sladkom nahradiť tak ,že si neskôr ten rozdiel ani nevšimnete. V tomto recepte nahrádza vajíčko jablkové pyré ale takisto vhodné sú aj napríklad banány. Suroviny: 1 šálka jablkového pyré (2-3 väčšie jablká + 2 PL […]

---

Na tento nákyp môžete použiť akúkoľvek rybu, ja som použila lososa ale samozrejme ide aj akákoľvek iná ryba. Nákyp je veľmi sýti a krásne krémovitý. Uvodené množstvo stačí pre 4 osoby. Suroviny: 1/2kg ryby 1 cibuľa 1 PL masla 2-3 mrkvy kus celeru kus póru 250ml šľahačkovej smotany 2 PL […]

---

Mňa tie jesenné farby proste nepustia a akosi sa mi vyslovene žiadajú pestré krémovité polievky pripomínajúce farebnosťou prírodu vonku. Táto kukuricová polievka s mrkvou mimoriadne chutila mojím deťom, zaiste pre jej chuť, ktorú jej dodala sladučká kukurica. Zahusťovať ju nebolo treba, vďaka zemiakom bola dostatočne hustá. Suroviny: 1 veľká kuchynská […]

---