Dnes som dostala chuť na niečo chrumkavé, na spôsob müsli tyčiniek. Ja som použila na plnku orechy a semiačka ale samozrejme aj sušené ovocie je určite chutné. Opäť raz recept, pri ktorom sa môžete riadiť vlastnými chuťami a prispôsobiť si ho podľa potreby výberu potravín doma :).
Suroviny na cesto:
20g čerstvých kvasníc
100g kr. cukru
450g hl. múky
150ml mlieka (ovseného mlieka)
100g roztopeného masla (kokosového tuku)
štipka soli
Suroviny – plnka:
100ml šľahačkovej smotany
2 PL masla alebo kokosového tuku
2 PL jahodovej marmelády
50g cukru (ja som použila kokosový cukor ale samozrejme možno použiť aj klasický kryštáľový)
150g posekaných mandlí
50g posekaných vlašských orechov
50g slnečnicových semiačok
1 kávová šálka ovsených vločiek
2 PL ľanových semiačok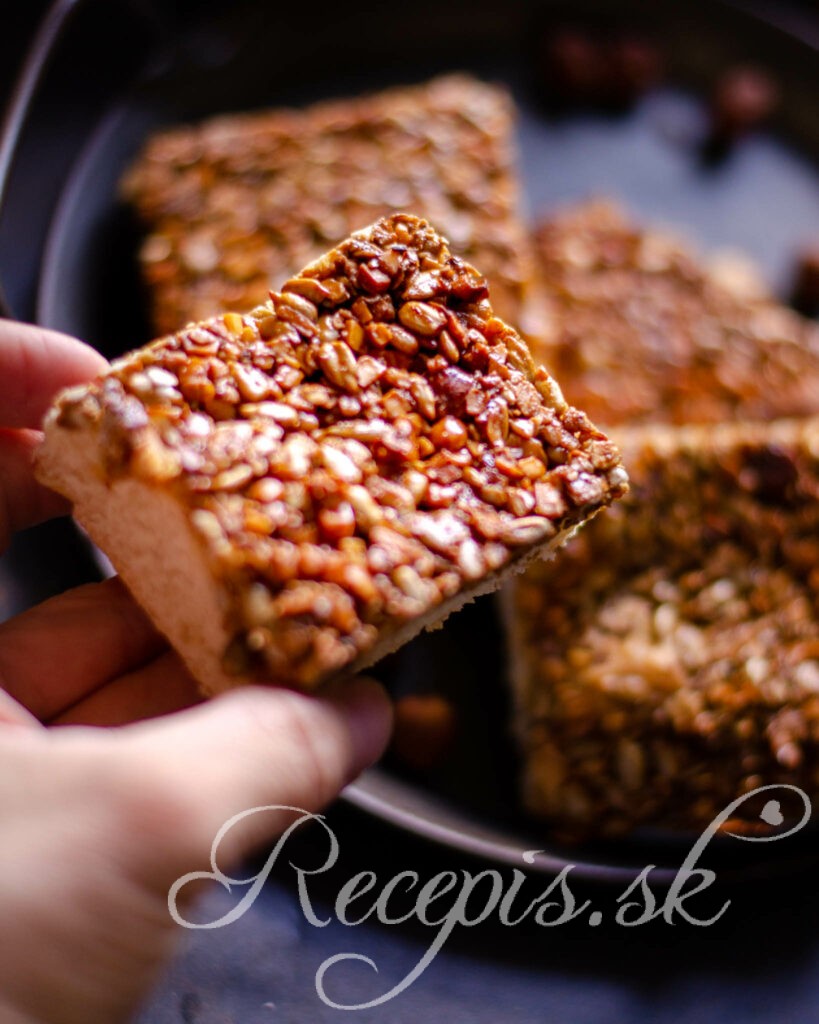 Postup:
Začneme prípravou kystnutého cesta. Na to si v miske si rozdrobíme kvasnice a pridáme cukor. Dobre premiešame a necháme stáť 5 minút pokiaľ sa vytvorí kvások. Podrobný postup na výrobu kvásku nájdete aj tu
Do inej misky dáme múku, roztopené maslo, štipku soli ako aj kvások. Mlieko si premiešame s cukrom až sa roztopí a potom ho takisto pridáme k cestu.
Cesto necháme miesiť asi 10 minút kuchynským robotom až nám vznikne elastické cesto. Ak je cesto moc suché, pridáme ešte malé množstvo vody (najlepšie po lyžičke).
Cesto hneď bez státia vyroľujeme na pomúčenej ploche na veľkosť plechu a potom ho preložíme na plech vyložený papierom na pečenie. Prikryjeme fóliou a necháme takto 30 minút oddychovať.
Medztiým si pripravíme plnku. Na to do hrnca dáme maslo, smotanu a cukor. Pri nahrievaní miešame až sa cukor rozpustí.
Potom pridáme marmeládu, orechy (posekané mandle, vlašské) ako aj semiačka (slnečnicové, ľanové) a ovsené vločky.
Krátko prevaríme a potom odstavíme z ohňa.
Keď je cesto už podkysnuté, rovnomerne naňho rozložíme plnku.
Takto pripravený koláč pečieme pri 180C v predhriatej rúre po dobu ca. 35 minút až dostane vrchná vrstva krásne intenzívnu hnedastú farbu.
Po vychladnutí nakrájame buď na štvorce alebo trojuholníky. Uskladnené v uzatvorenej nádobe je tento koláč chutný aj po niekoľkých dňoch.
…
Mám pre Vás novinku, ktorá ma naozaj veľmi napĺňa radosťou a o ktorú sa chcem s vami podeliť. Po intenzívnych prípravách som pre Vás prichystala tento skvelý zápisník receptov, ktoré hádam ocení každá gazdinka, ktorá rada varí či pečie. Zápisník bude v predaji od 14.12.2022. Ak nechcete dovtedy čakať, môžete […]

---