Priznám sa, že tekvica u mňa počas jeseni nikdy nechýba doma. Je tak všestranná a chutí či už na sladko alebo na slano. Tentoraz som z nej pripravila toto krásne krémovité rizoto, ktoré je pripravené bez alkoholu a teda vhodné aj pre deti. Zo šálky s objemom 100ml vám výjdu ca. 3 porcie.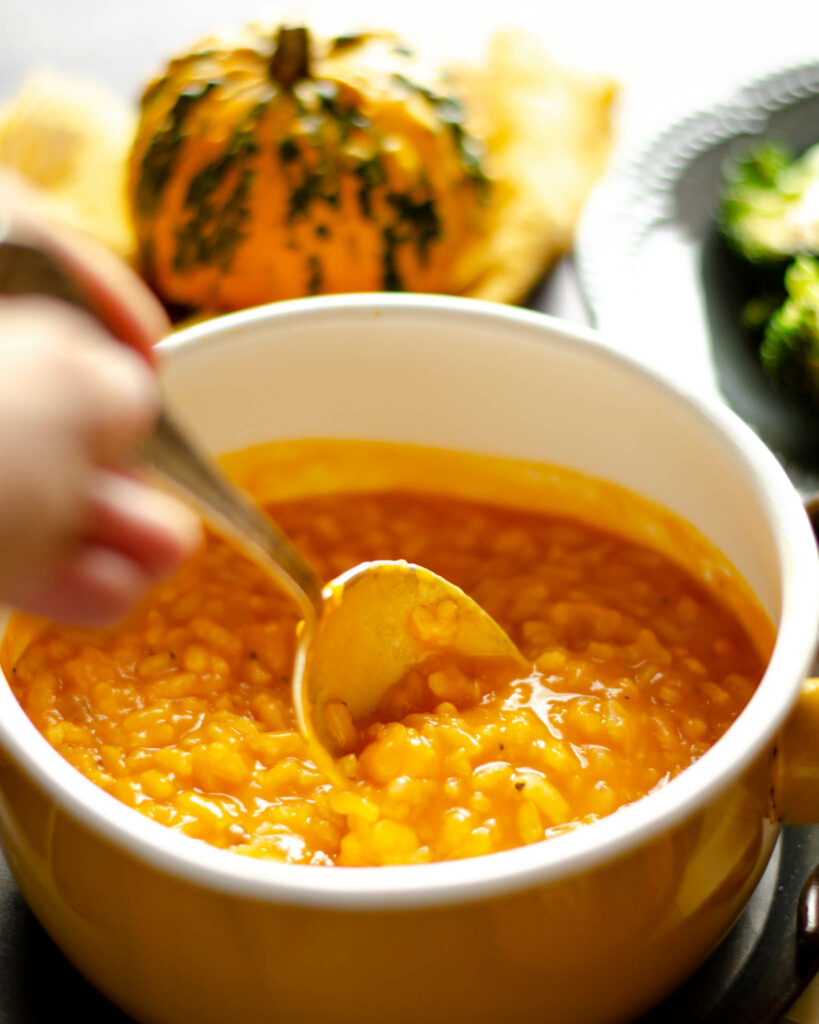 Suroviny:
1/2 menšej tekvice – maslovej alebo hokkaido +50ml vody
1 šálka rizoto ryže
1 cibuľa
1 šálka vývaru (napríklad zeleninový)
2 PL masla
50g postrúhaného syru (paremzán, gouda.. na aký máte chuť)
olej
1 menšia brokolica
soľ, čierne korenie
1čl citrónovej šťavy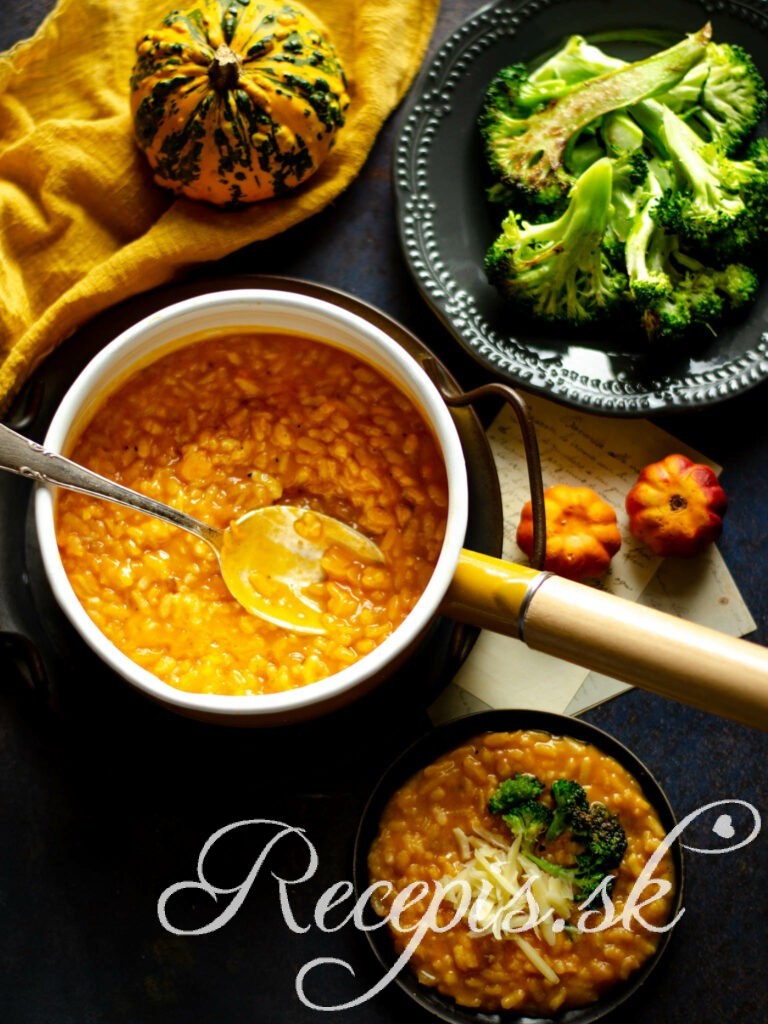 Postup:
Tekvicu si ošúpeme pokrájame na kocky a dáme s trochou vody dusíme v uzavretou hrnci 20 minút do mäkka.
Potom tekvicu ponorným mixérom rozmixujeme na hladkú kašu a odložíme stranou.
V hrnci si na troche oleja opražíme cibuľku pokrájanú na drobno do zlatista.
Pridáme ryžu (túto neumyjeme! škrob je v tomto prípade žiadaný).
Zalejeme 2 naberačkami vývaru a najnižšom stupni varíme 5-10 minút až sa vývar vsiakne do ryži.
Potom opäť prilejeme vývar a tento postup opakujeme až je ryža mäkká a vývar spotrebovaný. To trvá ca. 40 minút.
Medzitým si nad parou necháme variť brokolicu. Na to dáme do hrnca vodu, nad do postavíme sítko a brokolicu dáme do sítka. Osolíme, prikryjeme pokrievkou a dusíme 10 minút.
Na záver pridáme k ryži naše tekvicové pyré, postrúhaný syr ako aj maslo a trochu citrónovej šťavy.
Dobre premiešame ale už ďalej nevaríme. Ak treba dochutíme soľou prípadne čiernym korením.
Servírujeme ešte horúce rizoto s dusenou brokolicou a posypané syrom či pokvapkané olivovým olejom.
Mám pre Vás novinku, ktorá ma naozaj veľmi napĺňa radosťou a o ktorú sa chcem s vami podeliť. Po intenzívnych prípravách som pre Vás prichystala tento skvelý zápisník receptov, ktoré hádam ocení každá gazdinka, ktorá rada varí či pečie. Zápisník bude v predaji od 14.12.2022. Ak nechcete dovtedy čakať, môžete […]

---