V amerike sa tradične pripravuje množstvo rôznych dezertov z tekvíc či sladkého zemiaku ako to poznáme na európskom kontinente, a tento je jednoznačne klasika. Tekvicový koláč je krásne krémovitý a doslova sa na tom krehkom maslovom ceste rozplýva na jazyku. Kdo ešte nevyskúšal tekvicu pripraviť na sladko, veľmi odporúčam, je to skutočne dobrota.
Suroviny na cesto:
80g masla izbovej teploty
150g hl. múky
1 vajíčko
1čl soľ
Suroviny na plnku:
1 väčšia hokkaido alebo maslová tekvica (1kg)
3PL cukru +3 PL vody
2 vajíčka
20g škrobu (alebo 1/2 balenia vanilkového pudingového prášku)
50g kr. cukru
1čl škorice
1 vanilkový cukor
1 čl anízu
1čl sušeného zázvoru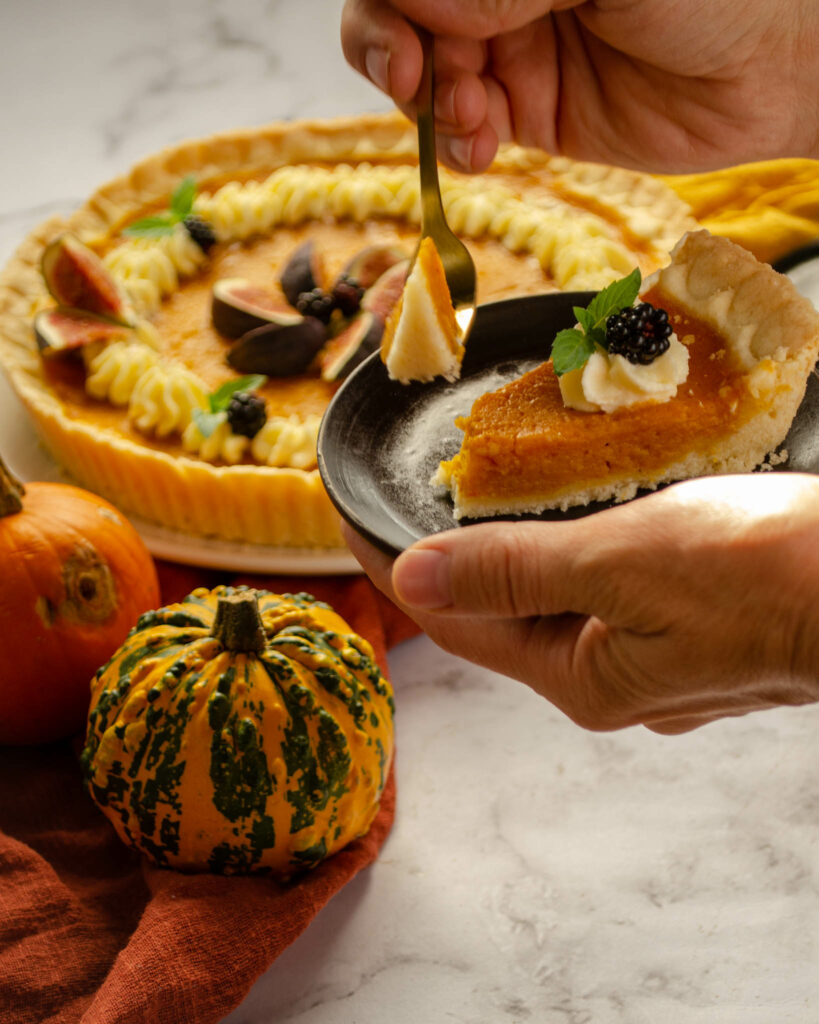 Postup:
Začneme prípravou tekvice. Tú umyjeme, prípadne ošúpeme, rozrežeme na polku a vyberieme zrnká. Potom ju pokrájame na kocky o veľkosti zhruba 2*2cm.
Do hrnca nasypeme cukor, pridáme trošku vody a tekvicu. Hrniec zakryjeme a potom necháme zovrieť. Teplotu znížime a dusíme 20-25 minút tekvicu do mäkka. Necháme vychladnúť.
Medzitým si pripravíme cesto. Vajíčko vymiešame s maslom, múkou a soľou do nelepivého cesta. Cesto zabalíme do fólie a necháme aspoň 1/2 hodinu v chlade tuhnúť.
Potom cesto vyrolujeme medzi 2 papiermi na pečenie a cesto takto preložímme pomocou papiera na pečenie do vymastenej formy na pečenie (buď klasickej okrúhlej s priemerom 26cm/28cm alebo do obdĺžnikovej).
Cesto pritlačíme na spod a obvod fomy a prebytočné cesto, ktoré ostane nad okrajom formy, odrežeme prípadne ozdobne ukončíme.
Na plnku rozmixujeme vychladnutú tekvicu na kašu. Pridáme vajcia, škrob a cukor. Dobre premiešame.
Potom dochutíme škoricou, vanilkovým cukrom, anízom a zázvorom.
Plnku nalejeme na cesto a potom necháme pie piecť pri 160C ca. 45-50 minút. Dôležité je piecť tento koláč pomaly, na nízskej teplote. Vďaka tomu sa mu zachová pekný hladký povrch a krémovitá vnútorná plnka.
Pred vzbratím z formy necháme dôkladne vychladnúť.
Mňa tie jesenné farby proste nepustia a akosi sa mi vyslovene žiadajú pestré krémovité polievky pripomínajúce farebnosťou prírodu vonku. Táto kukuricová polievka s mrkvou mimoriadne chutila mojím deťom, zaiste pre jej chuť, ktorú jej dodala sladučká kukurica. Zahusťovať ju nebolo treba, vďaka zemiakom bola dostatočne hustá. Suroviny: 1 veľká kuchynská […]

---

Dnes som dostala chuť na niečo chrumkavé, na spôsob müsli tyčiniek. Ja som použila na plnku orechy a semiačka ale samozrejme aj sušené ovocie je určite chutné. Opäť raz recept, pri ktorom sa môžete riadiť vlastnými chuťami a prispôsobiť si ho podľa potreby výberu potravín doma :). Suroviny na cesto: […]

---

Priznám sa, že tekvica u mňa počas jeseni nikdy nechýba doma. Je tak všestranná a chutí či už na sladko alebo na slano. Tentoraz som z nej pripravila toto krásne krémovité rizoto, ktoré je pripravené bez alkoholu a teda vhodné aj pre deti. Zo šálky s objemom 100ml vám výjdu […]

---