Chutný bezmäsitý pokrm. Jeho chuť dominuje intenzívna plnka v chrumkavom tenkom ceste. Recept na základné cesto takzvané Yufka, nájdete tu. Alternatívne môžete použiť aj kupované štrúdľové cesto. Neodporúčam použiť lístkové, to má úplne inú štruktúru a na tento recept sa nehodí.
Suroviny na cesto:
500g hl. Múky
1PL soli
Ca. 250ml vlažnej vody
Suroviny na plnku:
500g listového šenátu
1 malá cibuľa
2 strúčiky cesnaku
2 uvarené zemiaky
Soľ, čierne korenie, sušený cesnak
Balkánsky syr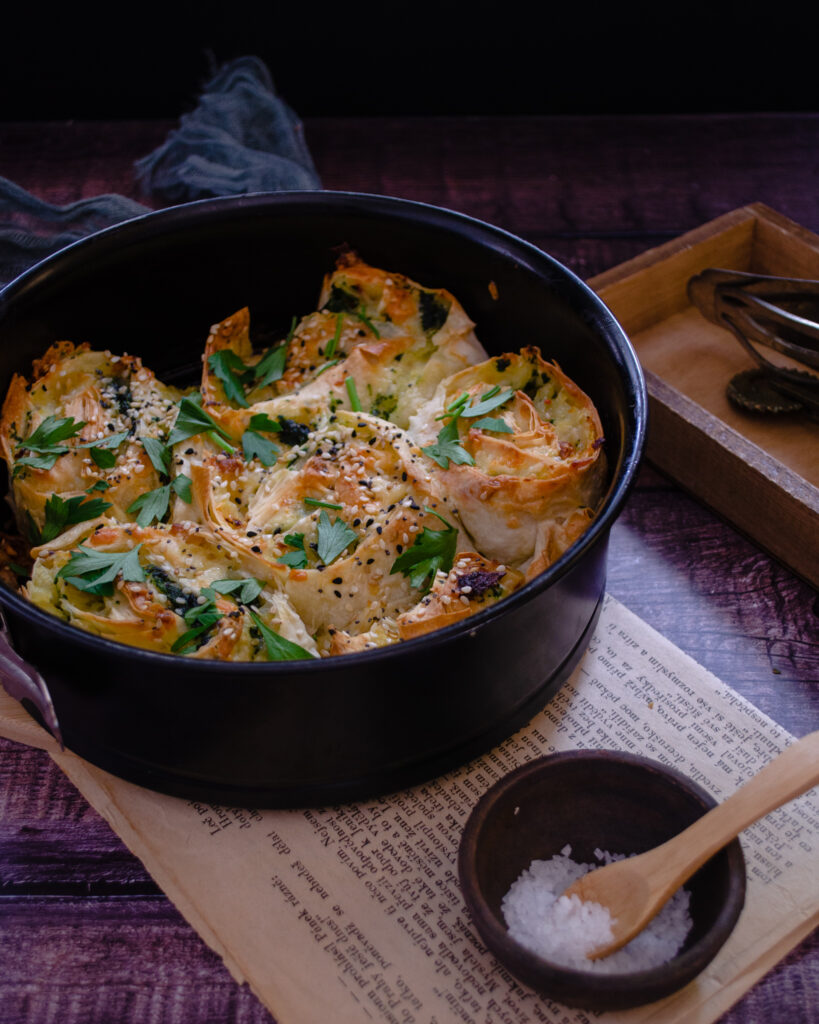 Suroviny na zálievku:
50g roztopeného vychladnutého masla
50ml mlieka
50ml oleja
1 vajíčko
Postup:
Cesto si pripravíme podľa základného receptu a vygúľame na tenké cesto. Alternatívne možno použiť hotové štrúdlové cesto.
Roztopené maslo zmiešame s mliekom, olejom a vajíčkom.
Na špenátovú plnku umyjeme listy špenátu, dobre ich odkvapkáme a pokrájame na väčšie kusy.
Alternatívne môžeme použiť mrazený špenát, ktorý sme nechali nad sítkom dovre odkvapkať z prebytočnej tekutiny.
V panvici opražíme cibuľku a cesnak pokrájané na dorbno.
Pridáme špenát a 2 minúty spolu podusíme.
Dochutíme soľou, čierným korením a sušeným cesnakom. Potom necháme vychladnúť.
Zemiaky postrúhame na hrubo a pridáme k cibuli.
K špenátu pridáme rozdrvený balkánsky syr (alebo postrúhaný tvrdý syr) a dobre zmes premiešame.
Spodok nádoby na zapekanie dobre vymastíme a položíme prvý plát cesta. Ten potrieme zálievkou a naňho položíme druhý plát cesta.
Opäť potrieme zálievkou a potom rovnomerne rozložíme plnku.
Na to dáme opäť 2 vrstvy cesta, vždy dobre potrieme zálievkou.
Cesto potom zatočíme do valca a ten buď rozkrájame na 2cm hrubé šulce, ktoré kladieme do vymastenej nádoby na zapekanie alebo zatočíme celý valex do formy slimáka a tak položíme do formy na pečenie.
Vrch cesta pomažeme zvyšnou zálievkou a prípadne posypeme sézamom.
Pečieme v trúbe pri 180°C. Najskôr 20minút prikyté alobalom a potom 25 minút až dostane börek krásnu zlatistú farbu.
Mňa tie jesenné farby proste nepustia a akosi sa mi vyslovene žiadajú pestré krémovité polievky pripomínajúce farebnosťou prírodu vonku. Táto kukuricová polievka s mrkvou mimoriadne chutila mojím deťom, zaiste pre jej chuť, ktorú jej dodala sladučká kukurica. Zahusťovať ju nebolo treba, vďaka zemiakom bola dostatočne hustá. Suroviny: 1 veľká kuchynská […]

---

Dnes som dostala chuť na niečo chrumkavé, na spôsob müsli tyčiniek. Ja som použila na plnku orechy a semiačka ale samozrejme aj sušené ovocie je určite chutné. Opäť raz recept, pri ktorom sa môžete riadiť vlastnými chuťami a prispôsobiť si ho podľa potreby výberu potravín doma :). Suroviny na cesto: […]

---

Priznám sa, že tekvica u mňa počas jeseni nikdy nechýba doma. Je tak všestranná a chutí či už na sladko alebo na slano. Tentoraz som z nej pripravila toto krásne krémovité rizoto, ktoré je pripravené bez alkoholu a teda vhodné aj pre deti. Zo šálky s objemom 100ml vám výjdu […]

---