Tvarohová plnka tejto torty je skvelým kontrastom k vanilkovému cestu a mierne sladkej plnky z malín. Cesto je super nadýchané a vláčne. Torta tiež drží výborne tvar a je to celkovo svelý dezert na príložiesti či posedenie pri káve aj keď trochu pracnejší.
Suroviny:
4 vajíčka
1/2 hrnčeka cukru
1/2 hrnčeka oleja
1 hrnčeka mlieka (ovseného mlieka)
1/2 balenia prášku do pečiva
1,5 hrnčeka hladkej múky
1 balenie vanilkového pudingové prášku
Malinová plnka:
1/2 hrnčeka- 100ml vody
1/2 hrnčeka kr. cukru
250 g malín
1 balenie vanilkového pudingového prášku
Tvarohová vrstva
1 balenie -500g tvarohu
1 balenie -200ml kyslej smotany
1 balenie drtenej želatíny + 2 PL vody
1/2 hrnčeka práškového cukru
kôra z citróna
Okrem toho:
120ml mlieka
1 šľahačka v prášku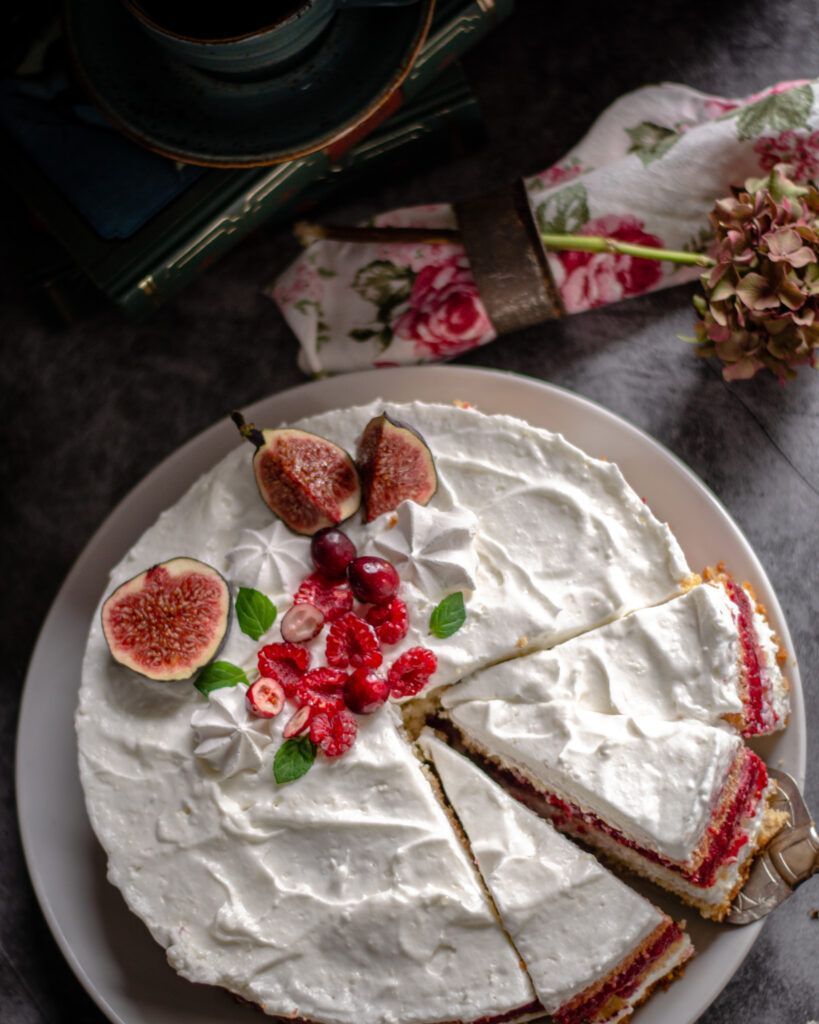 Postup:
Začneme tým, že si trúbu predherejeme na 160C,
Vajíčka vyšľaháme s cukrom do penista. Pridáme olej a ďalej šľaháme.
Pridáme mlieko, preosiatú múku a prášok do pečiva ako aj pudingový prášok. Dobre premiešame až vznikne hladké cesto.
Tortovú formu si vymažeme a nalejeme do nej cesto.
Pečieme pri 160 C po dobu 40-45 minút. Potom necháme dôkladne vychladnúť.
Následne cesto rozrežeme na 3 pláty.
Maliny dáme do hrnca spolu s vodou (za 3Pl si odložíme stranou) a cukrom a necháme ich rozvariť 5-10 minút.
V zvyšnej vode rozmiešame pudingový prášok a keď sú už maliny mäkké, prilejeme k ním pudingovú zmes a uvaríme hustý puding z malín. Necháme trochu vychladnúť.
Medzitým si tvaroh zmiešame s cukrom, citrónovou kôrou a smotanou.
Rozdrtenú želatínu dáme do hrnca a pridáme trošku vody. Premiešame. Potom hrniec na krátko (1 minútu) nahrejeme, v teplom hrnci sa želatína lepšie roztopí. Pozor, nevaríme ju len napomôžeme topeniu želatíny nahriatím.
Za lyžicu tvarohovej zmesi odoberieme a dáme k želatíne. Dobre rozmiešame. Potom celú želatínu vlejeme do misky s tvarohom a dôkladne premiešame.
Mlieko si vyšľaháme s práškovou šľahačkou do tuhej šľahačky.
Začneme vrstviť tortu. Na to položíme na misku spodný plát a umiestníme okolo neho cukrárenskú obruč.
Na spodný plát nanesieme tvarohovú zmes a zarovnáme ju do hladka. Položíme naň druhý plát. Ten potrieme výdatne malinovým džemom a potom naňho nalejeme mierne vychladnutý malinový puding.
Na to umiestníme posledný plát cesta. Už len potrieme vrch šľahačkou a necháme chladiť aspoň 2 hodiny v chladničke.
Kdo chce môže vrchnú vrstvu pomocou lyžičky vytvarovať do vlniek predtým než dá tortu chladiť.
Mám pre Vás novinku, ktorá ma naozaj veľmi napĺňa radosťou a o ktorú sa chcem s vami podeliť. Po intenzívnych prípravách som pre Vás prichystala tento skvelý zápisník receptov, ktoré hádam ocení každá gazdinka, ktorá rada varí či pečie. Zápisník bude v predaji od 14.12.2022. Ak nechcete dovtedy čakať, môžete […]

---