Máte radi tekvicové jadierka, aké si viete kúpiť na trhu? Takéto si ľahko pripravíte doma, samozrejme na to potrebujete vhodnú tekvicu ale túto možno dnes dostať bežne kúpiť v obchode či na trhu (druh tekvica veľkoplodová alebo ako ju moje deti volajú haloween tekvica). U nás doma sú všetci za nimi pobláznený a to nielen pre ich skvelú chuť, ale semiačka sú aj skvelým zdrojom minerálov ako železo či zinok a vitamínov A, B, C D a E. Proste chutné a zdravé.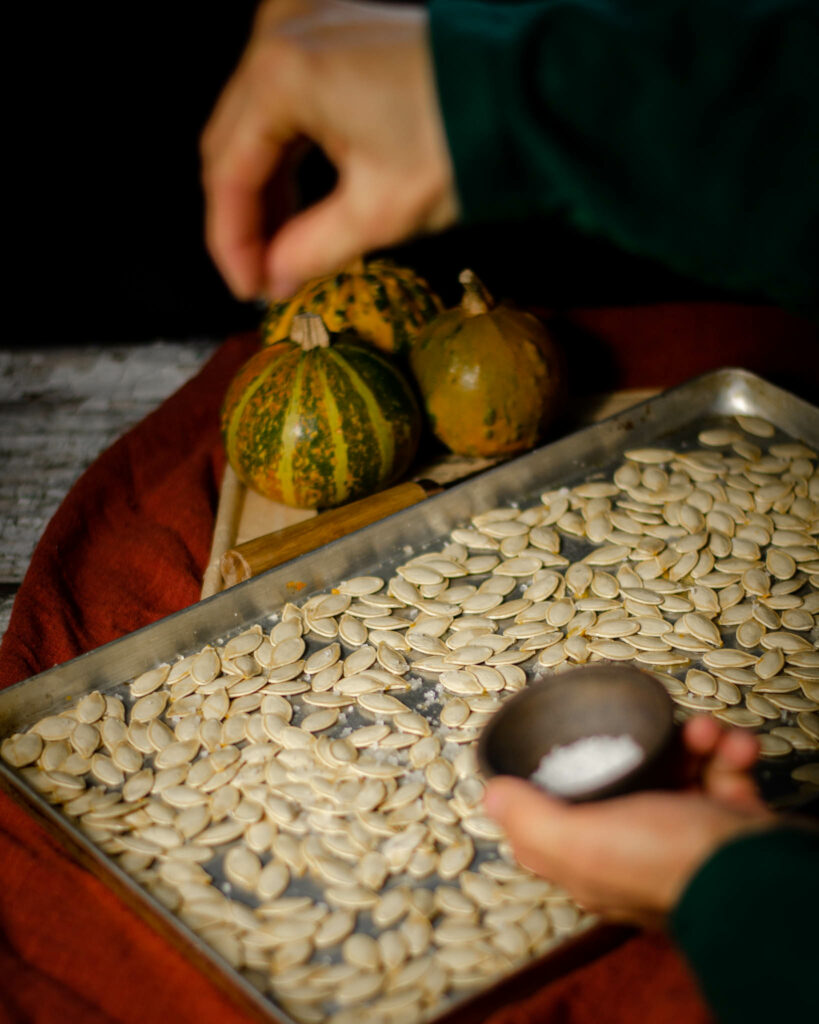 Potrebujete:
Surové semiačka z jednej veľkej tekvice
1 l vody
2 PL hrubozrnnej soli
plech na pečenie
Postup:
Tekvice narežeme vrch a vydlabeme jej vnútro. Vonkajšok tekvice nevyhodte, môžete s deťmi z neho pripraviť pekného strašiaka, stačí trochu predstavivosti.
Tekvica má fázovité, mľazgavé vnútro a samozrejeme semiačka. Práve tie chceme. Na to dáme všetko čo vydlabeme do vody a potom rukami umývame až sa vnútro oddelí od semiačok.
Semiačka vyberieme z vody a dáme na pekáč vyložený papierom na pečenie. Osolíme ich výdatne soľou, najlepšie sa hodí hrubozrnná, ktorá sa hneď neroztopí.
Následne ich necháme piecť pri 200C v predhriatej rúre po dobu 15-20 minút. Ja ich mám rada ešte biele, kdo ich chce mať opečené do hnedasta, ponechá ich v trúbe ešte 5-10 minút dlhšie.
Po vychladnutí sa môžete pustiť do maškrtenia.
Mám pre Vás novinku, ktorá ma naozaj veľmi napĺňa radosťou a o ktorú sa chcem s vami podeliť. Po intenzívnych prípravách som pre Vás prichystala tento skvelý zápisník receptov, ktoré hádam ocení každá gazdinka, ktorá rada varí či pečie. Zápisník bude v predaji od 14.12.2022. Ak nechcete dovtedy čakať, môžete […]

---