Ako už názov prezradil je to veľmi jednoduchý recept na chutné spracovanie cukety a to do tohto šťavnatého chutného koláča plného čokoládovej chuti. Na meranie vám postačí hrnček s objemom 250ml.
Suroviny na cesto:
4 šálky postrúhanej cukety (2-3 väčšie cukety)
4 vajíčka
1/2 šálky kr. cukru
1,5 šálky hladkej múky
1/2 balenia masla izbovej teploty (125g)
1 balenie tmavej čokolády (100g)
2 PL jahodovej marmelády
1/2 šálky kakaového prášku
1PL perníkového korenia
1/2 balenia prášku do pečiva
1 vanilkový cukor
Suroviny na čokoládovú polevu:
1/2 balenia šľahačkovej smotany (100ml)
1 balenie tmavej čokolády (100g)
štipka soli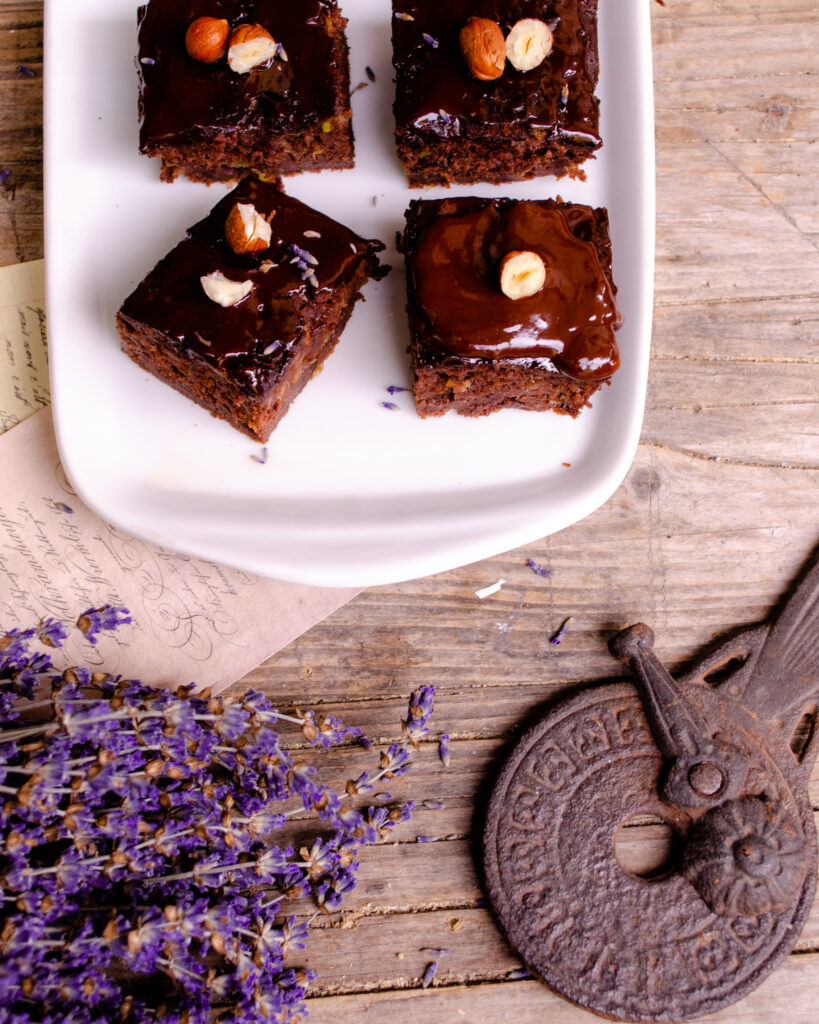 Postup:
Cukinu si ošúpeme a postrúhame na hrubo.
V hrnci nahrejeme maslo a pridáme doň čokoládu a marmeládu. Miešame až sa všetko roztopí a spojí, potom necháme vychladnúť.
vajíčka vyšľaháme s cukrom a vanilkovým cukrom do penista.
Pridáme vychladnutú maslovú zmes ako aj perníkové korenie, prášok do pečiva a soľ.
Následne pridáme múku, kakao a cuketu a vypracujeme vláčne cesto.
Cesto najeleme do vymestenej formy alebo na vymastený plech (môj mal 30x30cm).
Pečieme pri 160C po dobu ca. 45 minút. Potom necháme vychladnúť.
V hrnci si nahrejeme šľahačkovú smotanu a pridáme posekanú čokoládu. Miešame až sa čokoláda rozpustí.
Potom polevu nalejeme na koláč a necháme stuhnúť. Kdo chce môže povrch koláču ozdobiť napríklad lieskovými orechami.
Pozrite si tiež ďaľšie moje recepty pripravené z cukety
Mám pre Vás novinku, ktorá ma naozaj veľmi napĺňa radosťou a o ktorú sa chcem s vami podeliť. Po intenzívnych prípravách som pre Vás prichystala tento skvelý zápisník receptov, ktoré hádam ocení každá gazdinka, ktorá rada varí či pečie. Zápisník bude v predaji od 14.12.2022. Ak nechcete dovtedy čakať, môžete […]

---
Mám pre Vás novinku, ktorá ma naozaj veľmi napĺňa radosťou a o ktorú sa chcem s vami podeliť. Po intenzívnych prípravách som pre Vás prichystala tento skvelý zápisník receptov, ktoré hádam ocení každá gazdinka, ktorá rada varí či pečie. Zápisník bude v predaji od 14.12.2022. Ak nechcete dovtedy čakať, môžete […]

---

Ak sa vám nechce stráviť čas várbou tartaletiek, čo je naozaj precízna práca, môžete siahnuť k tejto o dosť jednoduhšej variante. Buď si keksíky vyrobíte doma alebo môžete alternatóvne použiť aj kupované maslové keksíky s väčším polomerom. Suroviny na cesto: Na plnenie: Postup:

---

Kdo ma pozná vie, že som veľkým fanúšikom maku a tak ani pri vianočnom pečení nesmie u nás chýbať. Tieto koláčiky sú nádherne krehké a plné chuti, nemali by chýbať pri vianočnom stole. Suroviny: Postup:

---

Moje deti sa v učili krásnu báseň – Advent, Advent.. sviečka žiari, najskôr jedna, potom druhá, potom tretia, potom štvrtá.. je to na neuverenie ale skutočne už jeden adventný týždeň máme za sebou a vianoce sa čoraz rýchlejšie blížia. Počas adventu sa akosi každý podvedome pripravuje na tieto krásne sviatky, […]

---