Azda ste si už všimnli, že obľubujem tekvicu. Je to skvelá zelenina, nenáročná na prípravu, mimoriadne trvácna a chutí skvelo či už v sladkých alebo slaných pokrmoch. Tentoraz som tekvicu použila do týchto chutných pancakes a moje deti sa do nich pustili ako osi. Len tak zo zvedavosti som sa pýtala, či sa im zdá na nich niečo iné a odpoveď bola, pekná farba a chutia super. Takže aj detský chuťový test som obstála 🙂
Suroviny:
3 vajíčka
250ml mlieka
100g cukru
70ml oleja
330g tekvicového pyré
150g hl. múky
1čl škorice
1čl prášku do pečiva
štipka soli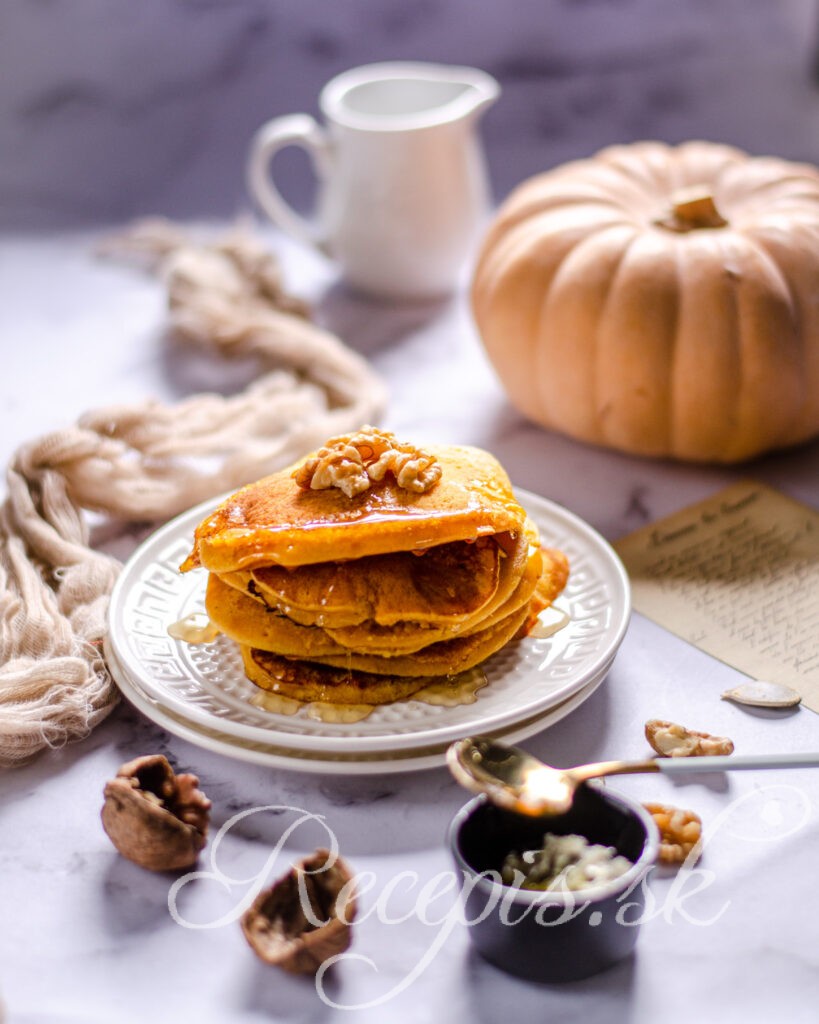 Postup:
Začneme prípravou tekvicového pyré. Toto sa dá kúpiť už aj ako polotovar ale vyrobiť ho je super jednoduché.
Na to si tekvicu očistíme, ošúpeme a pokrájame na malé kocky. Pridáme vodu a necháme zovrieť. Potom v uzavretom hrnci dusíme na najnižšej teplote 15-20 minút. Rozmixujeme ponorným mixérom do kaše a necháme vychladnúť.
Na palacinkové cesto si prešľaháme cukor s vajíčkami a mliekom. Pridáme Olej.
Následne pridáme múku, soľ, škoricu, prášok do pečiva a samozrejeme naše pyré. Vypracujeme hladké cesto.
Panvicu si nahrejeme a potrieme pierkom olejom. Potom nanesieme za malú naberačku cesta na horúcu panvicu a na strednej teplote pečieme z každej strany ca. 2 minúty do zlatista.
Servírujeme napríklad poliate javorovým sirupom či medom. Je to dobrota.
Mám pre Vás novinku, ktorá ma naozaj veľmi napĺňa radosťou a o ktorú sa chcem s vami podeliť. Po intenzívnych prípravách som pre Vás prichystala tento skvelý zápisník receptov, ktoré hádam ocení každá gazdinka, ktorá rada varí či pečie. Zápisník bude v predaji od 14.12.2022. Ak nechcete dovtedy čakať, môžete […]

---