Mesto Hamburg je známe chutnými nadýchanými kysnutými žemličkami, ktoré su tradične plnené škoricovou plnkou. Ja som vyskúšala ich tentoraz naplniť rozvarenými jabĺčkami a poviem vám, to bola ale veľká dobrota. Krásne mäkkučké pečivo s jablkovou plnkou, ako stvorené do jessených dní. Na váženie potrebujete hrnček s objemom 250ml.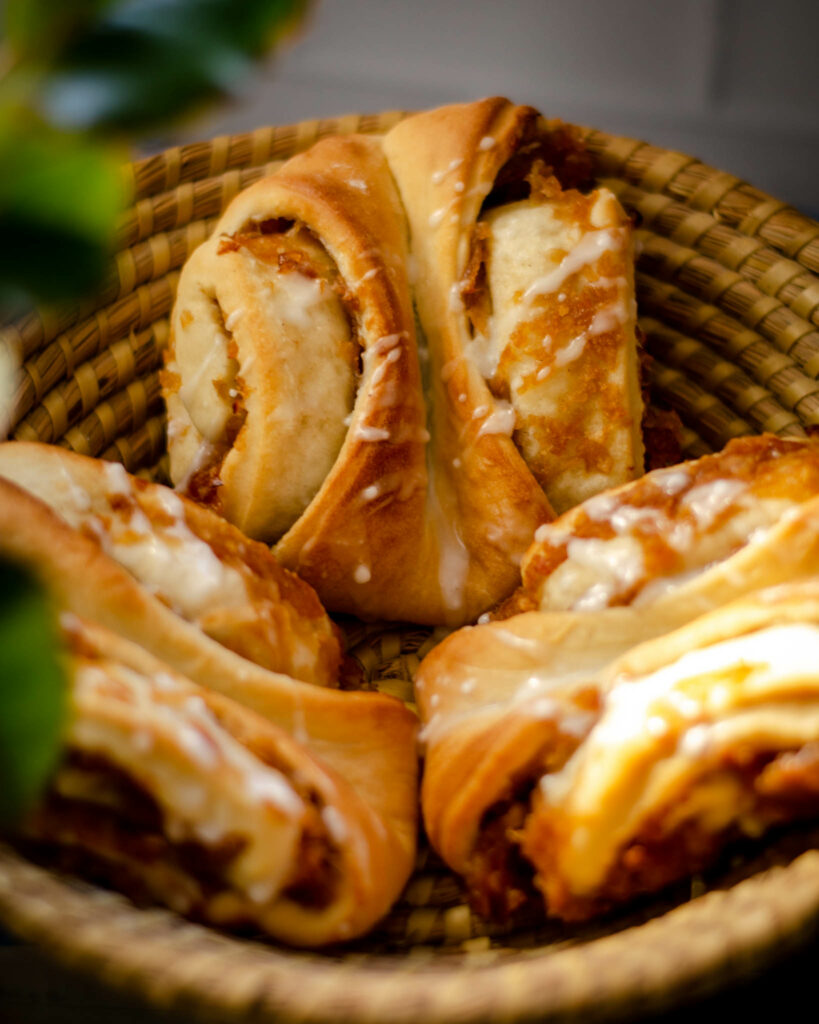 Suroviny na cesto:
1/2 čerstvých kvasníc (20g) +1 PL kr. cukru na kvások
1 šálka mlieka izbovej teploty (ovseného mlieka)
2 PL masla izbovej teploty
1/2 šálky kr. cukru
1/2 balenia hladkej múky (500g)
štipka soli
prípadne Voda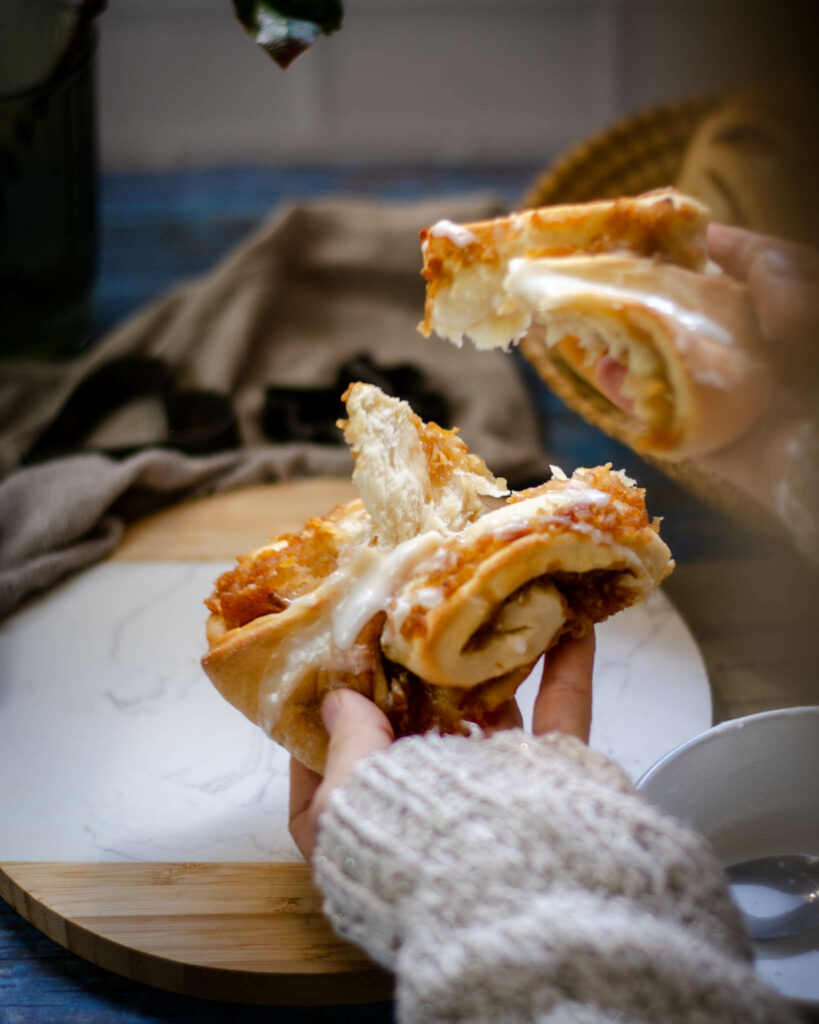 Suroviny na plnku:
2 veľké jablká + 2 PL vody
4 PL kr. cukru
50g roztopeného masla
1 vanilkový cukor
1 čl čkorice
Postup:
V miske si rozdrobíme kvasnice a pridáme cukor. Dobre premiešame a necháme stáť 5 minút pokiaľ sa vytvorí kvások. Podrobný postup na výrobu kvásku nájdete aj tu
Do misky dáme pripravený kvások, mlieko, soľ a cukor a dobre premiešame, až sa cukor rozpustí.
Následne pridáme maslo a múku a vymiesime elastické cesto. Ak je cesto moc suché, pridáme ešte malé množstvo vody (najlepšie po lyžičke). Cesto miesime ca. 5-10 minút.
Potom ho prikryté necháme oddychovať pol hodinu. Medzitým si pripravíme plnku.
Na to jablká postrúhame na hrubo a pridáme s cukrom a troškou vody do hrnca. Varíme na strednej teplote až sa začnú jablká úplne rozpadávať a meniť na kašu. Potom ich necháme vychladnúť.
Cesto po odpočinutí vyroľujeme na pomúčenej ploche na obdĺžnik.
Po celej ploche potrieme cesto výdatne maslom a posypeme ho škoricou a vanilkovým cukrom.
Potom pomažeme celú plochu jablkovou kašou a cesto zaroľujeme do šuľca. Ten rozrežeme na 12 rovnako veľkých dielov.
Každý šúlec potom pomocou varešky pritlačíme v strede aby sa vytvoril tvar akoby motýľa.
Takto pripravené položíme na plech vyložený papierom na pečenie a necháme prikryté ešte 15 minpt stáť.
Potom ich pečieme pri 180C po dobu ca. 25 minút do krásnej zlatistej farby.
Po vychladnutí môžeme pokvapkať buď citrónovou polevou alebo roztopenou bielou čokoládou.
Mám pre Vás novinku, ktorá ma naozaj veľmi napĺňa radosťou a o ktorú sa chcem s vami podeliť. Po intenzívnych prípravách som pre Vás prichystala tento skvelý zápisník receptov, ktoré hádam ocení každá gazdinka, ktorá rada varí či pečie. Zápisník bude v predaji od 14.12.2022. Ak nechcete dovtedy čakať, môžete […]

---