Mate chuť si pripraviť na raňajky čerstvé voňavé škoricové hniezda ako z pekárne? Na to nemusíte nastaviť budík o 2 hodiny skôr.
Tieto uzlíky si pripravíte za pár minút večer, na noc ich necháte pomaly kysnúť v chladničke a ráno už len na pár minút dáte piecť do trúby. Takéto kysnutie sa volá pomalé kysnutie a ušetrí veľa času, zatiaľ čo sa vyspíte, pracuje cesto pomaly a je hneď na ďaľší deň pripravené na ďaľšie spracovanie. Recept je hrnčekový.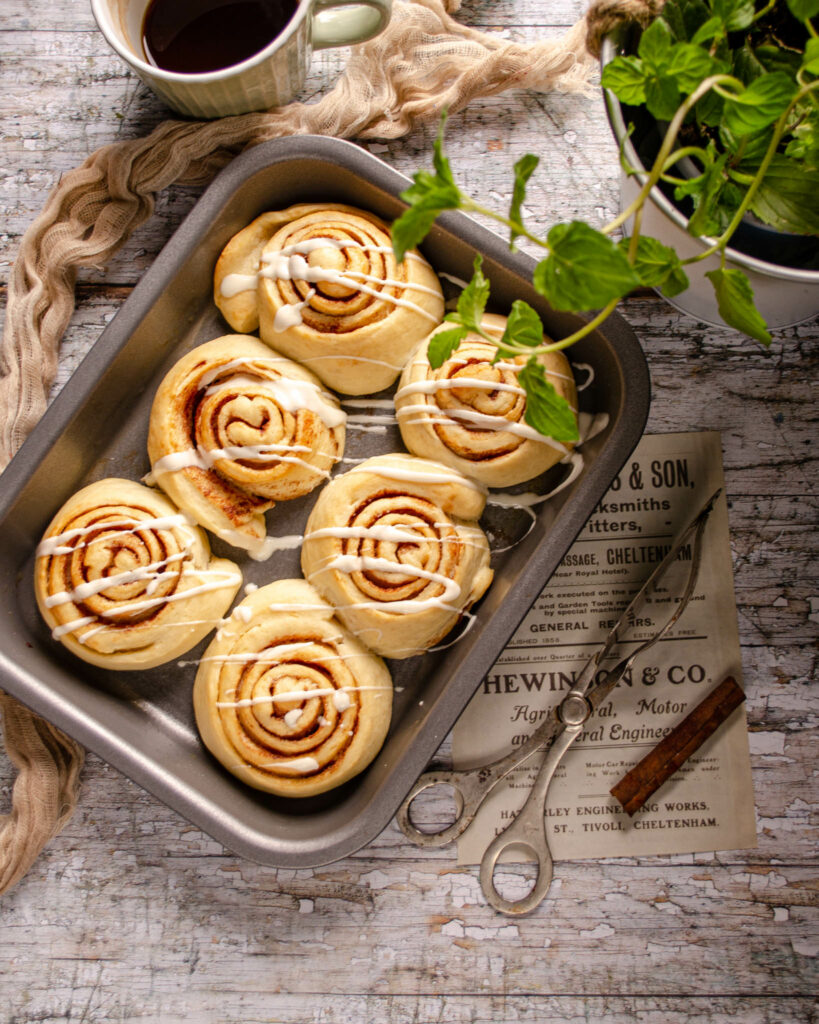 Suroviny na cesto:
1/2 čerstvých kvasníc (20g) +1 PL kr. cukru na kvások
2 šálky mlieka izbovej teploty (šálka s objemom 100ml)
2 PL masla izbovej teploty
2 vajíčka
1/2 šálky kr. cukru
5 šálok hl.múky (500g)
štipka soli
Voda
Okrem toho
mletú škoricu (ca. 4-5PL)
2 PL masla izbovej teploty
2 Pl kr. (alebo trstinového) cukru
Hrubý cukor na posypanie na vrchu
šťava z 1/2 citróna + ca. 60g pr. cukru na glazúru
Postup:
V miske si rozdrobíme kvasnice a pridáme cukor. Dobre premiešame a necháme stáť 5 minút pokiaľ sa vytvorí kvások. Podrobný postup na výrobu kvásku nájdete aj tu
Do inej misky pridáme jedno celé vajíčko ako aj 1 bielko. 1 žĺtko odložíme stranou na neskôr.
Okrem toho pridáme do misky mlieko, soľ a cukor a dobre premiešame, až sa cukor rozpustí.
Následne pridáme rozpustené maslo a múku a vymiesime elastické cesto. Ak je cesto moc suché, pridáme ešte malé množstvo vody (najlepšie po lyžičke). Cesto miesime ca. 5-10 minút.
Cesto hneď bez státia vyroľujeme na pomúčenej ploche na obdĺžnik.
Po celej ploche potrieme cesto maslom a posypeme ho výdatne škoricou a cukrom (trstinový mu dodá krásne karamelovú arómu, ale kdo nemá, kľudne použije kryštaľový). Potom cesto zaroľujeme do šúľca.
Ten rozrežeme na 12 rovako veľkých dielov.
Zapekaciu misku vymastíme a škoricové hniezda kladieme s dobrým odstupom do zapekacej misky alebo na plech vyložený papierom na pečenie Ja kladiem 3 * 4ks. Potom prikryjeme potravinovou fóliou a necháme v chlade cez noc kysnúť.
Na ďaľší deň vyberieme misku z chladničky, povrch uzlíkov, ktoré už narástli pomažeme žĺtkom a posypeme hrubým cukrom (môžeme vynechať).
Kdo nechce čakať cez noc môže takto pripravené uzlíky nechať prikryté kysnúť pri izbovej teplote 30 minút a následne ich nechať piecť.
Necháme piecť pri 200C ca. 20-25 minút do zlatista.
Kdo chce, môže po vychadnutí odzobiť uzlíky ešte glazúrou. Na to si preosejeme práškový cukor do misky a pridáme k nemu postupne a za miešania citrónovú šťavu, až vznikne mierne lepivá konzistencia. Ňou pokvapkáme hotové uzlíky a necháme krátko stuhnúť.
Mňa tie jesenné farby proste nepustia a akosi sa mi vyslovene žiadajú pestré krémovité polievky pripomínajúce farebnosťou prírodu vonku. Táto kukuricová polievka s mrkvou mimoriadne chutila mojím deťom, zaiste pre jej chuť, ktorú jej dodala sladučká kukurica. Zahusťovať ju nebolo treba, vďaka zemiakom bola dostatočne hustá. Suroviny: 1 veľká kuchynská […]

---

Dnes som dostala chuť na niečo chrumkavé, na spôsob müsli tyčiniek. Ja som použila na plnku orechy a semiačka ale samozrejme aj sušené ovocie je určite chutné. Opäť raz recept, pri ktorom sa môžete riadiť vlastnými chuťami a prispôsobiť si ho podľa potreby výberu potravín doma :). Suroviny na cesto: […]

---

Priznám sa, že tekvica u mňa počas jeseni nikdy nechýba doma. Je tak všestranná a chutí či už na sladko alebo na slano. Tentoraz som z nej pripravila toto krásne krémovité rizoto, ktoré je pripravené bez alkoholu a teda vhodné aj pre deti. Zo šálky s objemom 100ml vám výjdu […]

---