V piatok boli u nás počas môjho detstva tradične bezmäsité jedlá a jedným z častých bola aj jablková žemľovka. Tento spôsob prípravy je rýchlo hotový a dajú sa pri ňom použiť aj staršie či už tvrdé kúsky bieleho pečiva (rožky, chlebík, vianočka, alebo veka). U nás doma nikdo nemal rád bielkový sneh, preto sa u nás do nálevu dávali celé vajíčka a namiesto bielkového snehu na vrchu bola chrumkavá kôrka, ktorú sme posypali výdatne práškovým cukrom.
Suroviny:
1kg jabĺk
ca. 600g staršieho bieleho pečiva (rožky, veka, vianočka a pod., čo má človek doma)
citrónová šťava + 3 PL kr. cukru
1 vanilkový cukor (prápadne škorica)
1 balenie tvarohu (250g)
2 PL cukru
šupka z 1 citróna (najlepšie v bio kvalite)
200ml mlieka
50g roztopeného masla
1 vanilkový cukor
2 vajíčka
(hrozienka)
Postup:
Jablká postrúhame na hrubo. Polejeme ich šťavou z 1/2 citróna, posypeme cukrom a vanilkovým cukrom a odložíme stranou. Kdo chce pridá škoricu.
Tvaroh zmiešame s cukrom ako aj postrúhanou šupkou citróna.
Pečivo pokrájame na rovnako hrubé kúsky.
Ak chceme hrozienka použiť (možno ich aj vynechať), tak za hrsť hrozienok zalejeme vrelou vodou, po 5minútach ich zlejem z vody a vyžmýkame. Kdo hrozienka nemá rád, proste vynechá.
Pripravíme si ešte nálev. Na to zmiešame mlieko s vajíčkami, roztiopeným maslom ako aj 1 balením vanilkového cukru.
Nádobu na zapekanie si dobre vymastíme. Na spodok nádoby najskôr položíme prvú vrstvu pečiva, tak aby podľa možnosti neostali voľné priestory. Túto vrstvu polejeme 1/4 nálevu.
Na to poukladáme 1/2 postrúhaných jabĺčok a 1/2 hrozienok.
Potom nasleduje druhá vrstva pečiba, ktorú opäť polejeme 1/4 nálevu a tentoraz posypeme jej vrch tvarohom.
Opäť dáme vrstvu pečiva, polejeme nálevom a poukladáme zvyšné jablká. Štavu z jabĺk nevyhadzujeme ale takisto ňou polejeme pečivo.
Na záver položíme poslednú vrstvu pečiva, ktorú polejeme zvyšným nálevom. Pritom dbáme na to, aby neostali suché miesta na pečive.
Nádobu necháme pri 160C ca. picž po dobu ca. 30 minút, potom ešte povrch pečiva pomažeme trochou masla a necháme krátko dopekať, až vrchná časť pečiva dostane zlatistú farbu a bude pekne chrumkavá.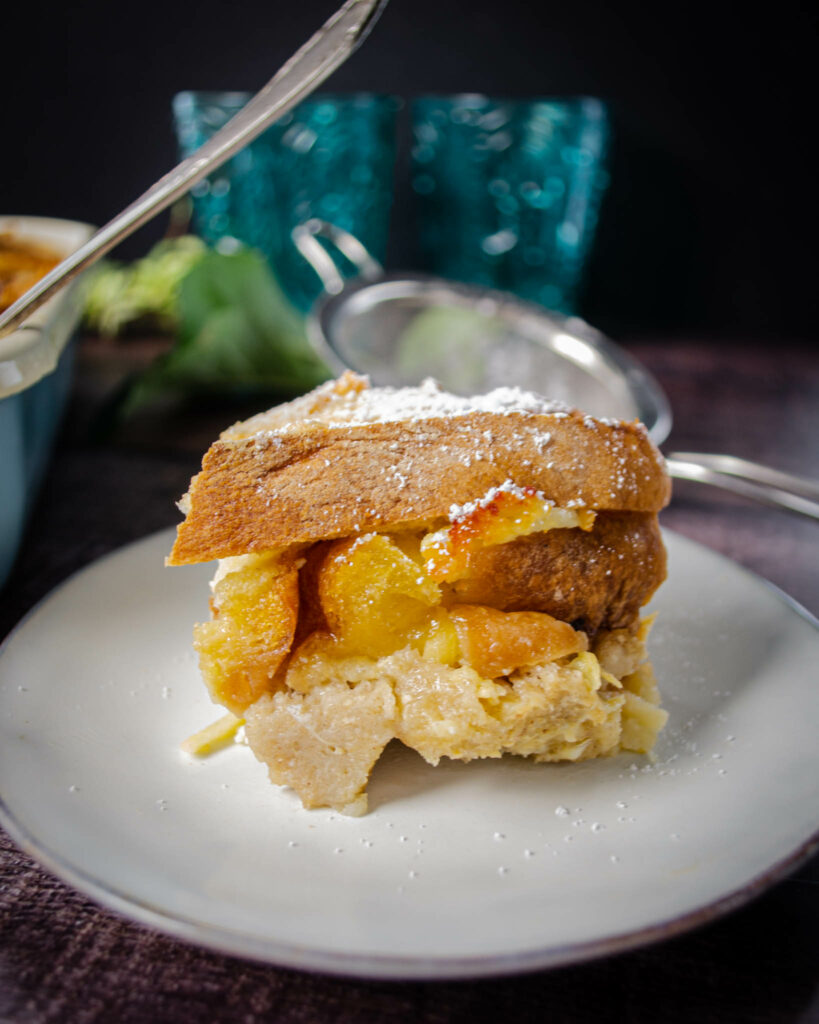 Mňa tie jesenné farby proste nepustia a akosi sa mi vyslovene žiadajú pestré krémovité polievky pripomínajúce farebnosťou prírodu vonku. Táto kukuricová polievka s mrkvou mimoriadne chutila mojím deťom, zaiste pre jej chuť, ktorú jej dodala sladučká kukurica. Zahusťovať ju nebolo treba, vďaka zemiakom bola dostatočne hustá. Suroviny: 1 veľká kuchynská […]

---

Dnes som dostala chuť na niečo chrumkavé, na spôsob müsli tyčiniek. Ja som použila na plnku orechy a semiačka ale samozrejme aj sušené ovocie je určite chutné. Opäť raz recept, pri ktorom sa môžete riadiť vlastnými chuťami a prispôsobiť si ho podľa potreby výberu potravín doma :). Suroviny na cesto: […]

---

Priznám sa, že tekvica u mňa počas jeseni nikdy nechýba doma. Je tak všestranná a chutí či už na sladko alebo na slano. Tentoraz som z nej pripravila toto krásne krémovité rizoto, ktoré je pripravené bez alkoholu a teda vhodné aj pre deti. Zo šálky s objemom 100ml vám výjdu […]

---