Mrkvová torta sa mi akosi vždy spája s veľkou nocou. Asi je to jej farbou, tou výraznou oranžovou, ktorá nám pripomína jarné kvitnúce kvietky a zmenu po šedej zime.
V mojej verzii som opäť piekla bez pridaného rafinovaného cukru, sladkosť torte dodali ďatle a agáve sirup. Kdo nechce použiť tieto alternatívy môže samozrejme siahnuť aj ku klasickému cukru. Ďatle aj sirup majú avšak výhodú, že sú na rozdiel od rafinovaného cukru bohaté na minerály a vitamíny. O tom si môžete prečítať viac v tomto článku.
Plnka aj cesto tiež obsahuju strúhaný kokos, tento sa mi výnimočne hodí ku mrkvovej torte, nielen farebne ale aj chuťovo. Dúfam, že vám moja verzie tohto veľkonočného dezertu zachutí.
Potraviny označené hniezdičkou * môžete samozrejme obmeniť podľa chuti (napríklad namiesto oleja použiť kokosový tun alebo namiesto octu použiť citrónovú šťavu).
Suroviny na cesto:
170g postrúhanej mrkvy (to sú ca. 2 väčšie kusy)
8 ks ďatlí
100ml horúcej vody
220g hladkej múky
2 vajíčka
70g strúhaného kokosu
100 ml oleja (napr. slnečnicový)*
1 PL škorice
50 ml (rastlinného) mlieka*
1 čl prášku do pečiv
1 čl jablkového octu*
Suroviny na plnku:
700ml (rastlinného) mlieka
60 g kukuričného škrobu (alebo 1,5 balenia vanilkového pudingu)
4 PL agáve sirupu*
125g masla alebo margarínu izbovej teploty
100g strúhaného kokosu
Postup:
Trúbu si nahrejeme na 180C.
Ďatle odkvôstkujeme a dáme do misky. Zalejeme horúcou vodou a necháme 10 minút zmäkknúť. Potom ich rozmixujeme aj s tekutinou ponorným mixérom na hladkú kašu.
Mrkvu postrúhame na jemno.
Vajíčka vyšľaháme s cukrom do penista.
K vajíčkam pridáme preosiatú múku, kokos, prášok do pečiva a škoricu, premiešame.
Potom pridáme mokré položky – ďatlovú kašu, mrkvu, ocot, a rastlinné mlieko. Vypracujeme vláčne cesto.
Tortovú formu si vymažeme a nalejeme do nej cesto.
Pečieme pri 180C ca. 40 minút. Potom vyberieme z trúby a necháme vychladnúť.
Keď je cesto studené tak ho nožom uprostred rozrežeme na polovičku.
Na prípravu plnky si uvaríme najskôr puding. Na to dáme do hrnca 500ml mlieka zohriať. Vo zvyšnom mlieku zmiešame pudingový prášok a keď mlieko začne vrieť, tak vlejeme doňho pudingovú zmes a za miešania uvaríme hustý puding.
Ten necháme kompletne vychladnúť. Je dôležité aby bol studený, inak by sa mohla seknúť plnka.
Medzitým si v miske prešľaháme mixérom maslo. Pridáme studený puding, sirup a kokos. Vypracujeme hladkú plnku.
Polovočku plnky nanesieme na spodný korpus, zaťažíme ho vrchnou časťou a nanesieme zvyšok plnky.
Kdo chce môže vrch torty ozdobiť ešte strúhaným kokosom alebo marcipánovými mini-mrkvičkami.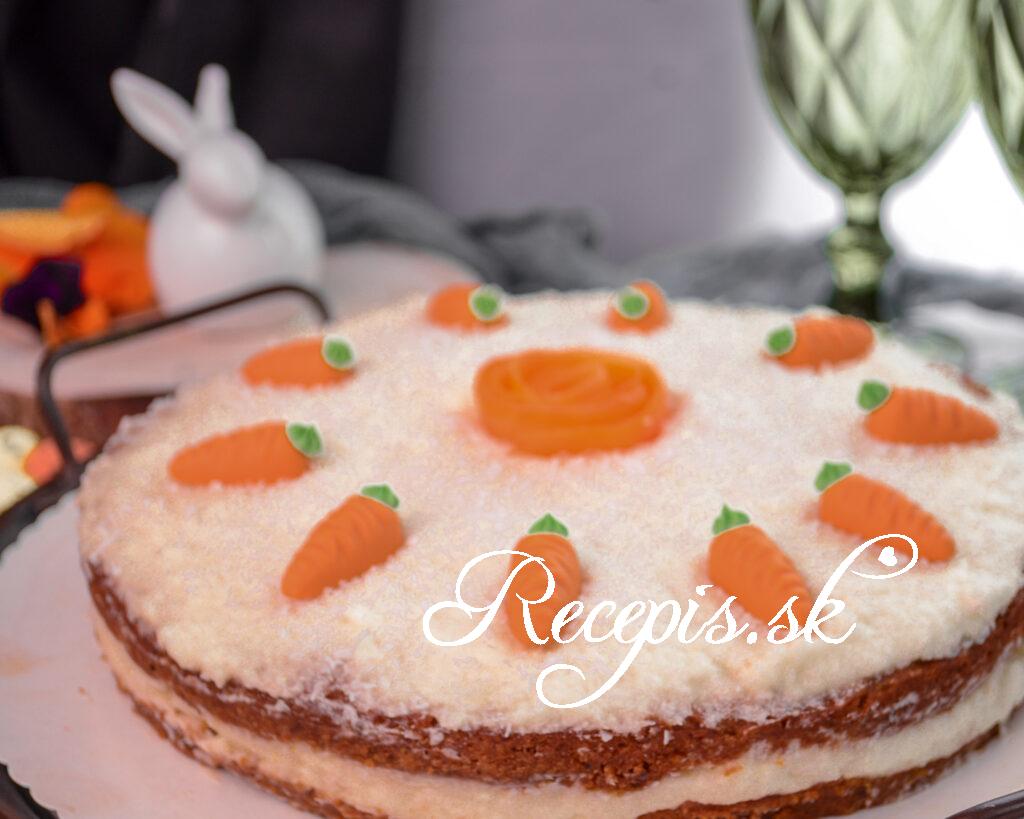 Tento recept patrí do kategórie – Veľkonočné pečenie.