Chystáte sa upiecť niečo rýchle a neviete sa rozhodnúť medzi bábovkou a cheesecake? A čo tak vyskúšať bábovku s cheesecake vo vnútri? Vyzerá to komplikovanejšie ako v skutočnosti je. A netreba vám viac ako klasickú bábovkovú formu.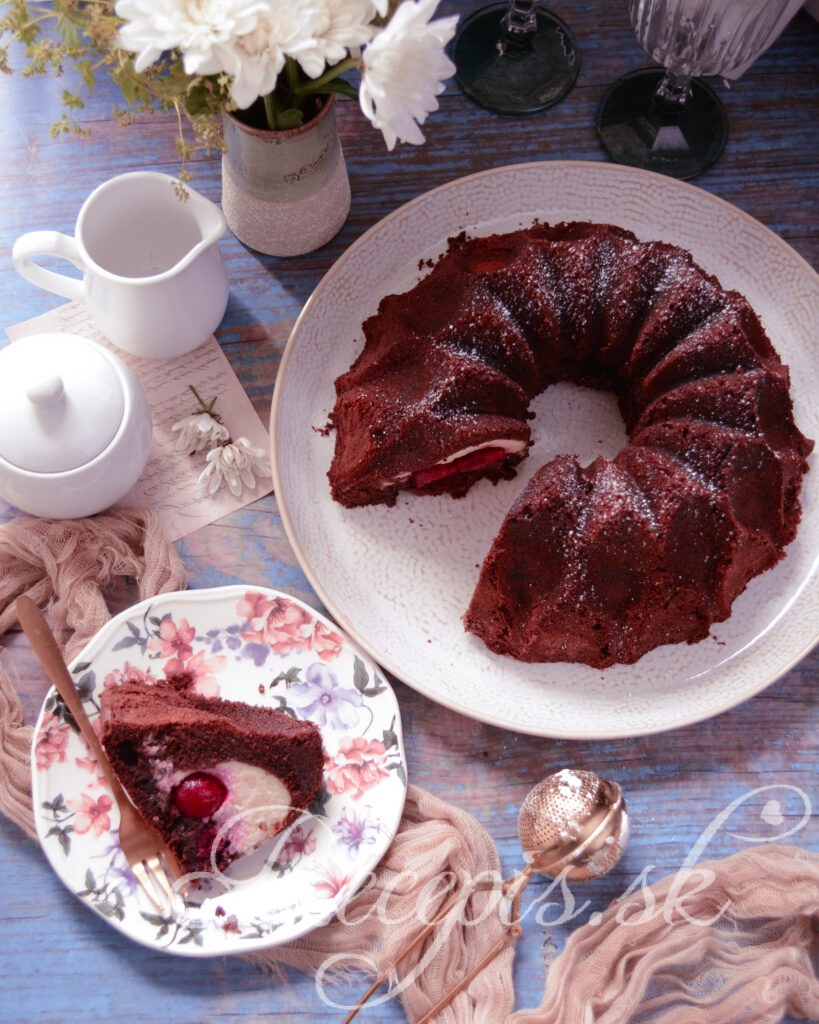 Suroviny na hnedé cesto:
3 vajíčka
150g cukru
125g masla
1 balenie kakaového pudingového prášku
160g múky
1/2 prášku do pečiva
Štipka soli
Suroviny na cheesecake:
200g jemného tvarohu
1 vajíčko
50g pr.cukru
1 vanilkový cukor
2 PL kukuričného škrobu
okrem toho:
50g čerešne (mrazené či zavárané)
Postup:
Trúbusi si predhrejeme na 180C.
Vajíčka vyšľaháme s cukrom a maslom do hladka, až vznikne cesto bez hrčiek.
Pridáme múku, prášok do pečiva, soľ, kakaový puding a všetko dobre premiešame.
Tvaroh zmiešame s vajíčkom, cukrom a vanilkovým cukrom ako aj škrobom.
Bábovkovú formu dobre vymastíme.
Potom 2/3 hnedého cesta nanesieme lyžicou do nádoby a takisto lyžicou dôkladne rozotrieme cesto po stranách aj strede formy, tak aby bolo cesto všade rovnomerne hrubé. Keďže je cesto suchšie, dá sa dobre natierať.
Do stredu hnedého cesta nalejeme cheesecake plnku a do nej vložímr zopár čerešní.
Na to opäť lyžicou nanesieme zvyšok kakaového cesta a povrch zarovnáme.
Takto pripravené cesto pečieme v trúbe pri 180⁰C ca. 45 minúť. Pred koncom pečenia prikryjeme alobalom aby cesto moc nezhneslo.
Po upečení necháme kompletne vychladnúť, až potom vyklopíme z formy, inak by sa nám mohlo cesto poškodiť.
Mám pre Vás novinku, ktorá ma naozaj veľmi napĺňa radosťou a o ktorú sa chcem s vami podeliť. Po intenzívnych prípravách som pre Vás prichystala tento skvelý zápisník receptov, ktoré hádam ocení každá gazdinka, ktorá rada varí či pečie. Zápisník bude v predaji od 14.12.2022. Ak nechcete dovtedy čakať, môžete […]

---