Dnes bol pre mňa veľmi špeciálny deň, také malé narodeniny tentoraz ale nie moje ale mojej stránky. V dnešný deň prekročil môj foodblog počet milióna návštev a skutočne ma to dojalo. Dôvera všetkých tých, ktorí sa vracajú pravidelne na moju stránku ale aj tých, ktorí sem možno len zablúdili, ma skutočne ohriala pri srdci.
Keď som túto stránku pred 3 rokmi založila nikdy by sa mi ani nesnívalo, že osloví takéto veľké publikum. Niesom odborníkom v PR a tak som dúfala, že dobré a overené recepty si proste nájdu svoju cestu ako sa dostať k čitateľom. O to viac ma teší, že je tomu naozaj tak.
Posledné týždne som pracovala rôznymi smermi na tom, môj blog vylepšiť z pohľadu mojich čitateľov a čoskoro sa hádam ukáže môj foodblog v jeho novom vzhľade. Veľmi sa poteším vašej rezonancii na túto optickú zmenu. To však nieje všetko. Premyslela som si ešte zopár ďaľších noviniek.
Čo plánujem?
Okrem už spomenutej optickej úpravy mojej stránke na ktorej aktuálne na plné obrátky pracujem, chcem v blízskej budúcnosti vypracovať tiež na mojej stránke priestor, kde sa budem venovať receptom na kašičky pre kojencov. Tieto budú zoradené podľa mesiaca dietatka, aby ste zvolili tie správne kašičky pre vaše detičky.
Ako mama 4 detí som sa už tých kaší navarila a kedže moje deti trpeli aj na intolerancie, bol moj postup zavádzania pevnej stravy vždy opatrný a konzultovaný s lekármi. Výsledkom tohto postupu bolo, že im intoleracie postupne zanikli a dnes sa môžu tešiť zo života bez potravinových alergií.
Ako ďakujem za vašu dôveru- E-kniha s receptami zadarmo
Rada by som sa Vám rada odvďačila za vašu dôveru a tak som vypracovala E-knihu s chutnými receptami k téme "Jahody", ktorú vám zadarmo zašlem mailom keď sa zaregistrujete na odber Newslettru.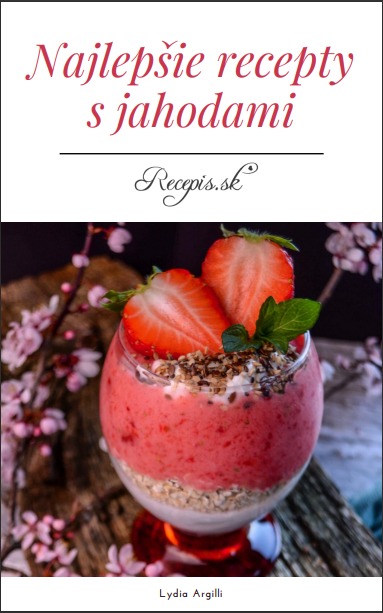 Čo získate odoberaním Newslettru?
Okrem ďaľších E-kníh s receptami, ktoré pripravujem, pľvás budem tiež informovať o najnovších receptoch či iných zaujímavých článkoch k téme varenie.
Vďaka newslettru chcem vytvoriť priestor, v ktorom sa môžem s Vami podeliť o dodatočné, exkluzívne informácie, a mať tiež možnosť sa lepšie spoznať.
Nezabudnite sa teda prihlásiť na odober Newsletteru aby ste ostali v obraze.
Ako ma môžete podporiť?
Ak sa vám môj foodblog páči a chcete moju prácu podporiť tak sa veľmi poteším keď môj blog aj naďalej budete navštevovať a tiež ak ma budete abonovať na facebooku či instagrame.
Takisto sa veľmi poteším, keď ma v uverejnených príspevkoch, ktoré ste uvarili či upiekli podľa mojich receptov označíte @recepis.sk (to sa dá tak na facebooku ako aj na instagrane). Tiež akákoľvek krátka správa k receptu, ktorý ste vyskúšali je pre mňa vzácna. Je vždy príjemné sa podeliť o vaše kulinárske zážitky s mojími receptami.
Niekedy sú to síce len maličkosti, ktoré však moju robotu vedia veľmi posunúť dopredu.
Na záver ešte raz veľké ĎAKUJEM za Vašu návstevu môjho blogu.
PS: ak vám kniha nedôjde do 24 hodín, prosím skontrolujte si aj Spamy, je možné, že sa omylom tam zatúlal môj Email. Prípadne ma skontaktujte na lydia.argilli@gmail.com.
Rada z času na čas pečiem bez vajec, tieto sa dajú mnohými spôsobmi efektívne v sladkom nahradiť tak ,že si neskôr ten rozdiel ani nevšimnete. V tomto recepte nahrádza vajíčko jablkové pyré ale takisto vhodné sú aj napríklad banány. Suroviny: 1 šálka jablkového pyré (2-3 väčšie jablká + 2 PL […]

---

Na tento nákyp môžete použiť akúkoľvek rybu, ja som použila lososa ale samozrejme ide aj akákoľvek iná ryba. Nákyp je veľmi sýti a krásne krémovitý. Uvodené množstvo stačí pre 4 osoby. Suroviny: 1/2kg ryby 1 cibuľa 1 PL masla 2-3 mrkvy kus celeru kus póru 250ml šľahačkovej smotany 2 PL […]

---

Mňa tie jesenné farby proste nepustia a akosi sa mi vyslovene žiadajú pestré krémovité polievky pripomínajúce farebnosťou prírodu vonku. Táto kukuricová polievka s mrkvou mimoriadne chutila mojím deťom, zaiste pre jej chuť, ktorú jej dodala sladučká kukurica. Zahusťovať ju nebolo treba, vďaka zemiakom bola dostatočne hustá. Suroviny: 1 veľká kuchynská […]

---