Pečiete niekedy doma pečivo? Ak áno, tak odporúčam vyskúšať aj tento jednoduchý recept na hot dog žemličky.
S deťmi máme už roky tradíciu, že raz do týždňa si môžu objednať večeru podľa ich želaní. Tentoraz padla voľba na hot dogy. Kedže nasladlé hot dogové žemličky, čo možno kúpiť v obchode nám nechutia (deti vždy vyjedia párok a žemla ostane bokom), vyrábam nám domáce žemličky. Tieto chutia skvelo a sú raz-dva hotové bez dlhého čakania.
Suroviny:
20g čerstvých kvasníc + 1 PL cukru
550g múky (hladkej alebo polohrubej)
1/2PL soli
75g rastlinného margarínu (napr. Hera) izbovej teploty
200ml ovseného mlieka
2 PL rozdrvených ľanových semiačok
5 PL vody
20ml vegan šľahačky na potretie
Postup:
Najskôr si pripravíme ľanové semiačka. Tie dáme do misky, polejeme vodou, dobre premiešame a necháme 5 minút nabopnať.
Následne si prichystáme kvások. Na to do misky rozdrobíme kvasnice, posypeme ich cukrom, premiešame a takisto necháme stáť 5 minút.
Podrobný popis na výrobu kvásku nájdete tiež tu- https://recepis.sk/2022/01/29/kvasok-zakladny-recept/
Múku nasypeme do misky, pridáme nabopnaté ľanové semiačka (tie majúrovnakú funkciu ako vajíčko), kvások, soľ, rastlinné mlieko, margarín a vodu.
Miesime ca. 10 minút až vzikne krásne elastické cesto.
To hneď ďalej spracujeme. Rozdelíme ho na 10 rovnakých dielov. Potom každý diel zložíme (pozri video) a vypracujeme tvar žemličky.
Takto pripravené cesto položíme s odstupom na plech vyložený papierom na pečenie.
Plech pritom prikryjeme igelitom a necháme takto pol hodinu oddychovať.
Potom žemličky potrieme smotanou a necháme v predhriatej rúre pri 200 °C ca. 25 minút piecť do zlatista.
Asi 5 minút pred koncom pečenia ešte raz potrieme šľahačkou. To im dodá pekný lesk.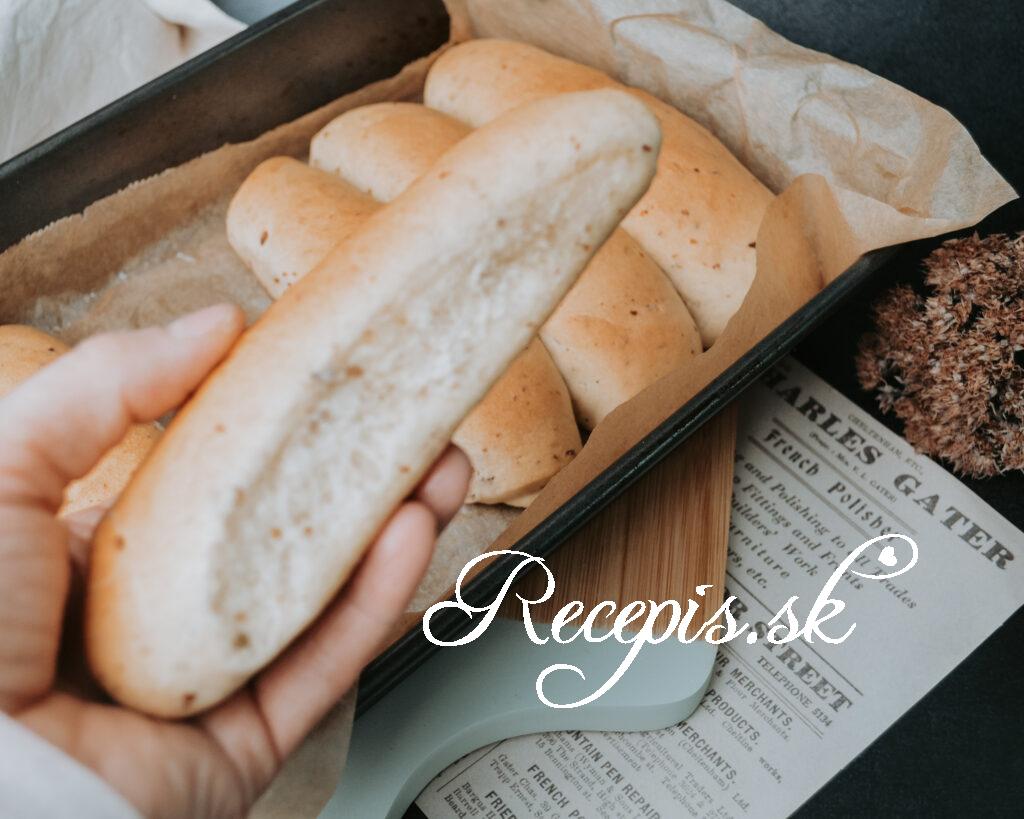 Podrobný postup ako piecť bez vajec nájdete v tomto článku- https://recepis.sk/2022/02/20/recept-piect-bez-vajec/