Mám pre Vás novinku, ktorá ma naozaj veľmi napĺňa radosťou a o ktorú sa chcem s vami podeliť. Po intenzívnych prípravách som pre Vás prichystala tento skvelý zápisník receptov, ktoré hádam ocení každá gazdinka, ktorá rada varí či pečie.
Ak teda chcete mať zápisník, ktorý vás bude sprevádzať vašími kulinárskými cestami a písať tak rodinné kulinárske dejiny alebo len hľadáte darček pre mamu, svokru, kamarátku.. proste darček, ktorý nielen ich poteší aj ho aj naozaj využijú, tak pevne verím, že vás bude môj zápisník na tejto ceste sprevádzať.
BONUS k zápisníku
Ako BONUS k zápisníku obdržíte tiež 15 mojích najpopulárnejších receptov. Verím, že aj vám tieto zachutia rovnako aj tisícom ľudí, čo ich už mali možnosť vyskúšať.
Ďaľším bonusom je tabuľka v ktorej sa dozviete, ktoré bežné potraviny môžete v kuchyni nahradiť. Takže ak sa rozodnete variť a nenájdete doma žiadne vajíčko nemusíte hneď utekať do potravín. S týmito jednoduchými náhradami si ľahko poradíte aj bez nákupu.
Dedičstvo po mojích starých rodičoch – zápisníky
Ako dieťa som pomerne skoro prišla o moju babku z ocovej strany. Bola to skvelá kuchárka a pekárka a napriek môjmu útlemu veku som si pamätala mnohé jej chutné jedlá, ktoré som ochutnala keď sme boli u ních na oslave narodenín či cez sviatky. Akosi intuitívne som vtedy povedala môjmu dedkovi, že rada by som si na jej pamiatku ponechala jej zápisníik receptov, do ktorého si veľmi úzkostlivo svoje recepty značila.
Neskôr keď zomrela moja stará mama som si takisto spomenula na jej zápisník receptov a poprosila mamu, či by mi ho mohla prenechať. Už vtedy som tušila, aké cenné dedičstvo, takéto spomienky na chutné jedlá tradované v mojej rodiny už o desaťročia, predstavujú.
Keď som vstúpila do veku, keď som sa učila variť a experimentovať v kuchyni, veruže som často moje zošítky vytiahla. Väčšinou v ňom boli jednoduchšie tradičné recepty na jedlá zo zopár surovín (naše babky mali skvelé nadanie vyčarovať z mála niečo chutné), bolo to práve to orechové pre nováčika v kuchyni.
Ako sa hľadajú recepty dnes?
Dnešná moderná doba zmenila v mnohom spôsob akým varíme ale aj ako vyhľadávame recepty a ako si ich uschovávame. Zatiaľ či moja babka mala len jednu jedinú univerzálnu kuchársku knihu a k tomu jej zápisníky, dnes už azda väčšina ľudí siahne pri hľadaní receptov skôr do vyhľadávača na internete, alebo si pozrie obľúbenú stránku či blog, prípadne navštívy youtube či pinterest.
Tie cesty hľadania receptov sa naozaj neporovnatelne zmenili ako aj množstvo informácii ku ktorým sa tak človek dostane. Čo sa však stále nezmenilo je, že tým najlepším spôsob ako sa dostať k receptom je proste a jednoducho si ho vypýtať, keď sme u rodiny, či priateľov kde nám výnimočne chutilo. Ústna propaganda je naďalej skvelým, tak často podceňovaným zdrojom skvelých receptov, ktoré si už len treba zapísať do zápisníka.
Takisto napriek tej rozmanitosti výberu receptov, je ťažke sa niekedy rozhodnúť pre to, ktorý vyskúšať. Ako často som už zahliadla na fórach otázku typu "Máte overený recept na (perníčky)? Na internete som ich našla sto a neviem sa rozhodnúť, ktorý vyskúšať."
Áno, výber je obrovský a nie vždy dopadne výsledok tak, ako by sme si priali. Avšak keď a podarí, tak nič nenahnevá človeka viac, ako keď si ten skvelý recept, po ktorom si každý lízal prsty, proste nepoznačí.
Načo ešte komu treba zápisník?
Napriek tomu teda, že časy aj možnosti sa zmenili, nezmenila sa naša potreba si dobre recepty mať možnosť poznačiť. A o čo lepšie ak máme na to vyhradený zápisník, ktorý nám umožní si naše skvelé, oskúšané či podedené recepty úhľadne poznačiť?
Náhľad
To ma viedlo k rozhodnutiu pripraviť zápisník receptov, ktorý vám poslúži univerzálne na značenie receptov a ktorý bude nielen praktický ale tiež pekný na pohľad. Variť síce viem ale grafik niesom preto som požiadala grafičku Mariu Osteratgovú o jej pomoc a výsledkom som bola unesená. Náhľad do zápisníka vám čo najskô umožním nech máte možnosť si vytvoriť prvý dojem.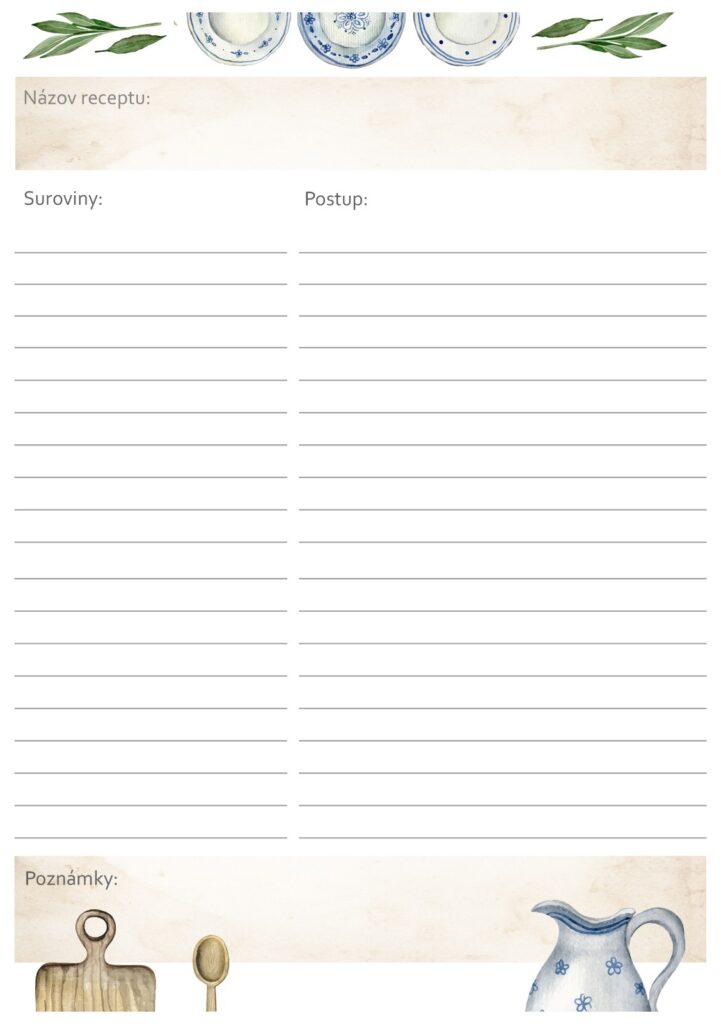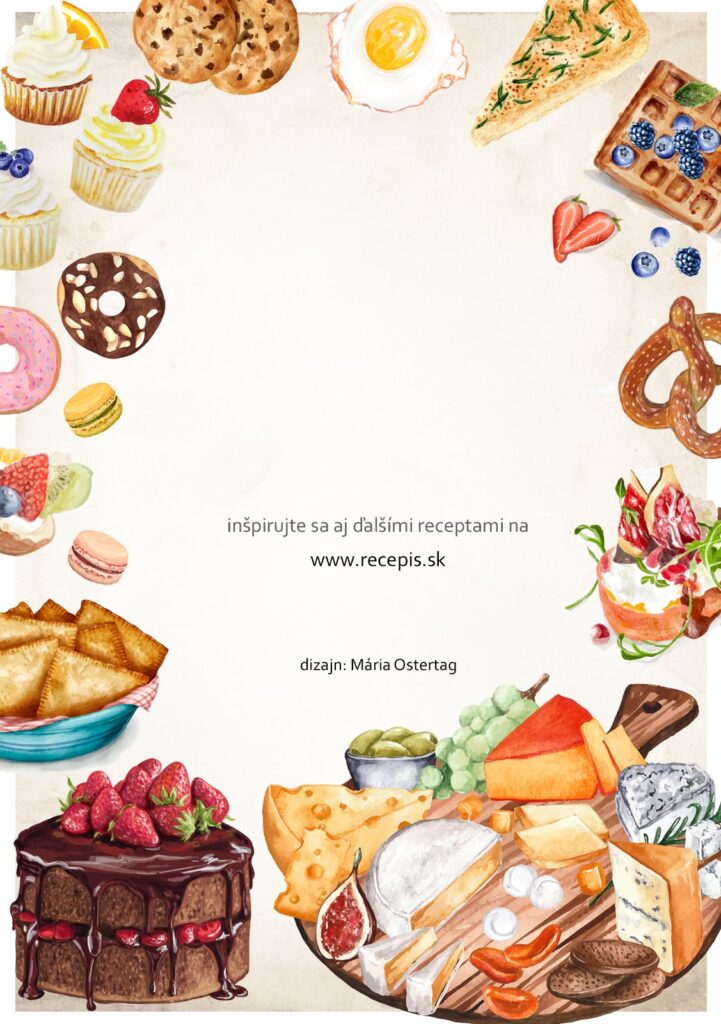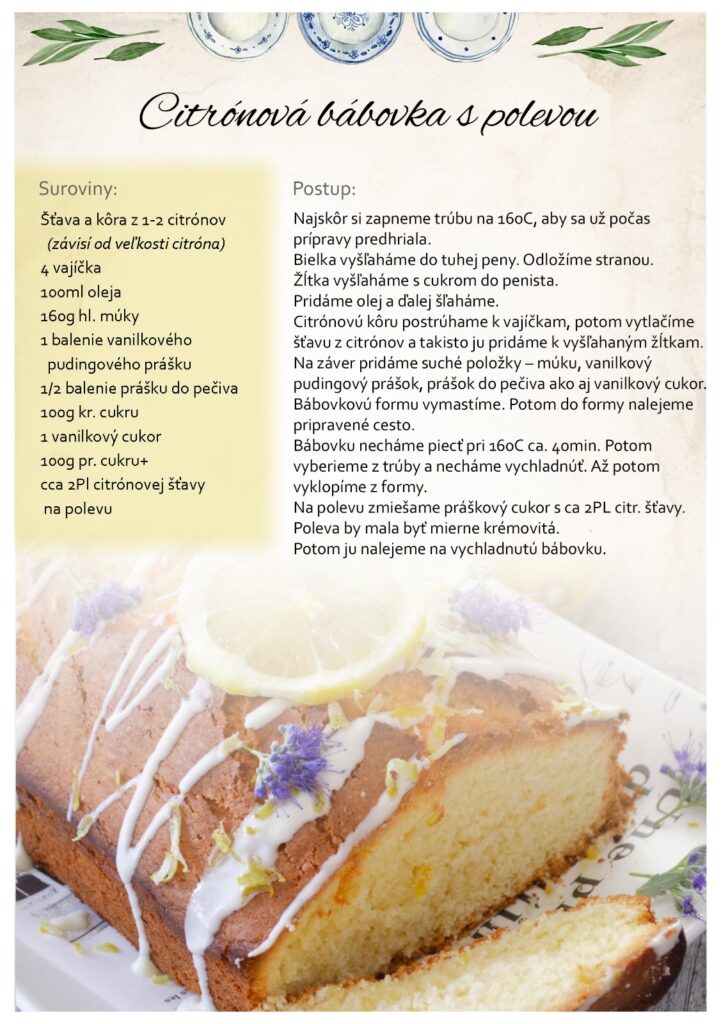 Mám pre Vás novinku, ktorá ma naozaj veľmi napĺňa radosťou a o ktorú sa chcem s vami podeliť. Po intenzívnych prípravách som pre Vás prichystala tento skvelý zápisník receptov, ktoré hádam ocení každá gazdinka, ktorá rada varí či pečie. Zápisník bude v predaji od 14.12.2022. Ak nechcete dovtedy čakať, môžete […]

---