Chuť jabĺk a maku ako aj jabĺk a tvarohu spolu krásne harmonizuje. Tak ma napadlo obe chute spojiť do tohto chutného nenáročného koláču na ktorý vám postačí jedna miska, hrnček s objemom 250ml a 1 tortová forma (priemer 24 alebo 26cm)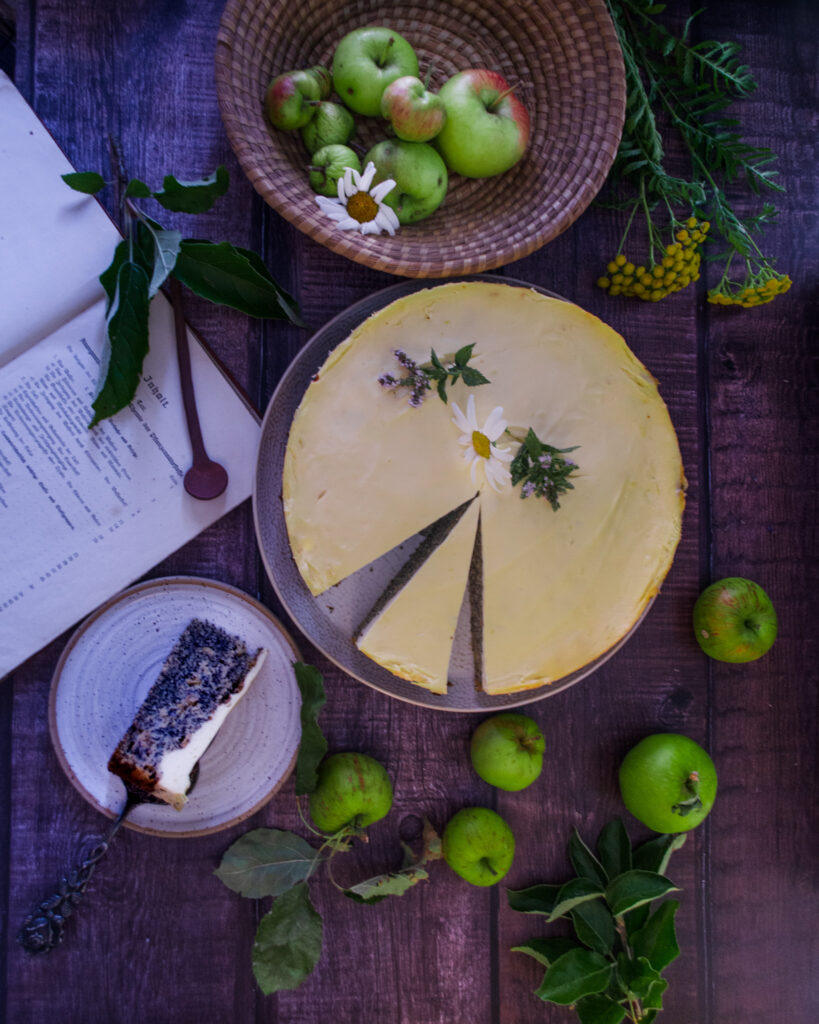 Suroviny na jablkovú časť:
3 jablká + pár kvapiek citrónovej šťavy
3 vajíčka
0,5 šálky kr. cukru
1 šálka roztopeného masla alebo margarínu
1 vanilkový cukor
1 šálka mlieka (rastlinného mlieka)
1/2 balenia prášku do pečiva
1 šálka maku (v celku, nepomletého)
1,5 šálky hladkej múky
Suroviny na tvarohovú časť:
1 šálka mlieka + 5 PL mlieka
1 vajce
1 balenie vanilkového pudingového prášku
1 balenie (500g) jemného tvarohu
1 balenie vanilkového cukru
1/2 šálky práškového cukru
kôra z citróna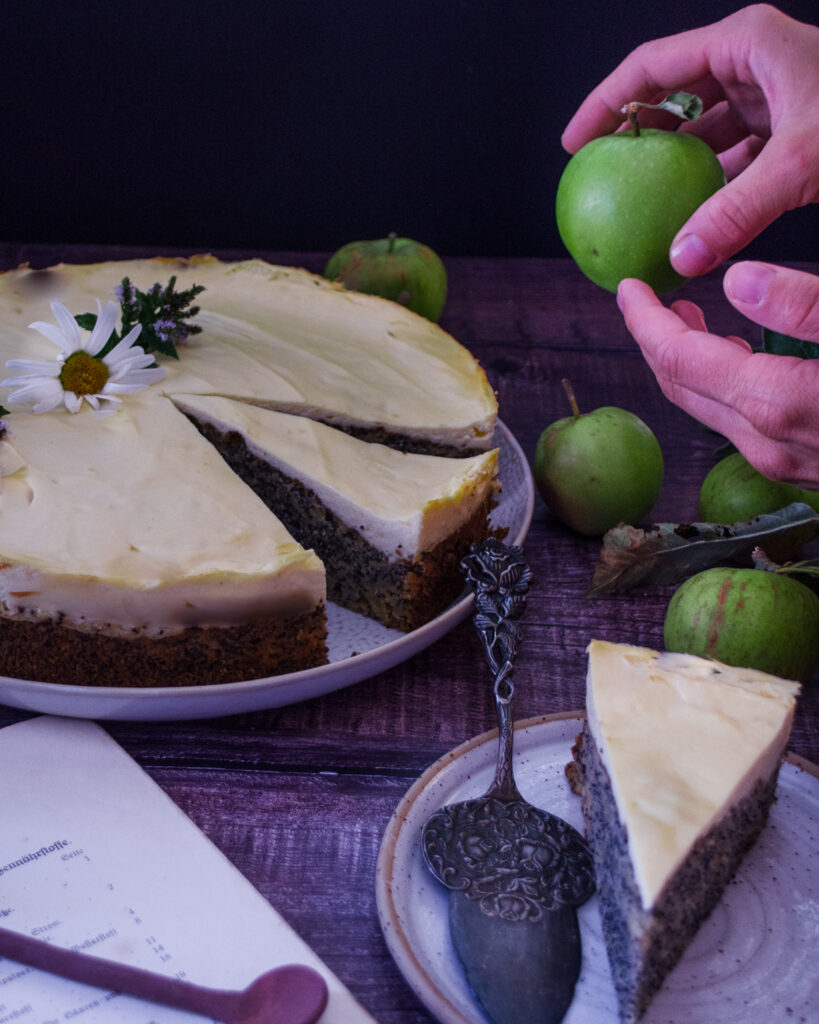 Postup:
Trúbu si predhrejeme na 160C.
Najskôr si priravíme jabkovú vrstvu. Na to najskôr postrúhame jablká na hrubo a pokvapkáme ich trochou citrónovej šťavy aby neznhnedli.
Potom si v miske vyšľaháme vajíčka s cukrom. Pridáme mlieko a roztopené maslo. Premiešame.
Potom pridáme suché položky – prášok do pečiva, vanilkvá cukor, mak a múku a všetko dobre premiešame.
Tortovú formu si vymastíme a nalejeme do nej polovičku cesta. Na to poukladáme rovnomerne postrúhané jablká a tie zalejeme zvyšným cestom. Zarovnáme povrch.
Takto pripravný koláč dáme na 30 minút piecť do našej predhriatej rúry až sa vrch koláča uzavrie a stuhne.
Medzitým si dáme do hnrca mlieko a necháme ho zohrievať. V miske si zmiešame 5 lyžíc mlieka s pudinogovým práškom a vanilkovým cukrom.
Keď mlieko zovrie, prilejeme pudingovú zmes a uvaríme hustý puding. Ten necháme krátko chladnúť.
Medzitým si zmiešame tvaroh s vajíčkom a citrónovou kôrou. Pridáme pudingovú zmes a premiešame.
Po 30 minútach pečenia nanesieme na koláč a zarovnáme. Necháme ešte spolu piecť po dobu 20 minút.
Pred vybranín z formy a nakrojením necháme dôkladne vychladnúť.
Mňa tie jesenné farby proste nepustia a akosi sa mi vyslovene žiadajú pestré krémovité polievky pripomínajúce farebnosťou prírodu vonku. Táto kukuricová polievka s mrkvou mimoriadne chutila mojím deťom, zaiste pre jej chuť, ktorú jej dodala sladučká kukurica. Zahusťovať ju nebolo treba, vďaka zemiakom bola dostatočne hustá. Suroviny: 1 veľká kuchynská […]

---

Dnes som dostala chuť na niečo chrumkavé, na spôsob müsli tyčiniek. Ja som použila na plnku orechy a semiačka ale samozrejme aj sušené ovocie je určite chutné. Opäť raz recept, pri ktorom sa môžete riadiť vlastnými chuťami a prispôsobiť si ho podľa potreby výberu potravín doma :). Suroviny na cesto: […]

---

Priznám sa, že tekvica u mňa počas jeseni nikdy nechýba doma. Je tak všestranná a chutí či už na sladko alebo na slano. Tentoraz som z nej pripravila toto krásne krémovité rizoto, ktoré je pripravené bez alkoholu a teda vhodné aj pre deti. Zo šálky s objemom 100ml vám výjdu […]

---