Počuli ste už niekedy o šaláte Tacos? Ak ešte nie a hľadáte šalát, ktorý poslúži nielen ako príloha ale ako hlavný pokrm tak určite vyskúšajte. Tento vrstvený šalát obsahuje okrem iného aj hovädzie mleté mäso a poskytuje plnohodnotý pokrm, ktorý moje deti volajú burger šalát. Jedinou omáčkou v šaláte je salsa omáčka, zvyšok dominuje rôznými vrstvami zeleniny a mäsa. Najlepšie chutí tento šalát po pár hodinách v chladničke. Skvelé pohostenie tiež pre hostí, ak chcete ponúknuť aj niečo slané.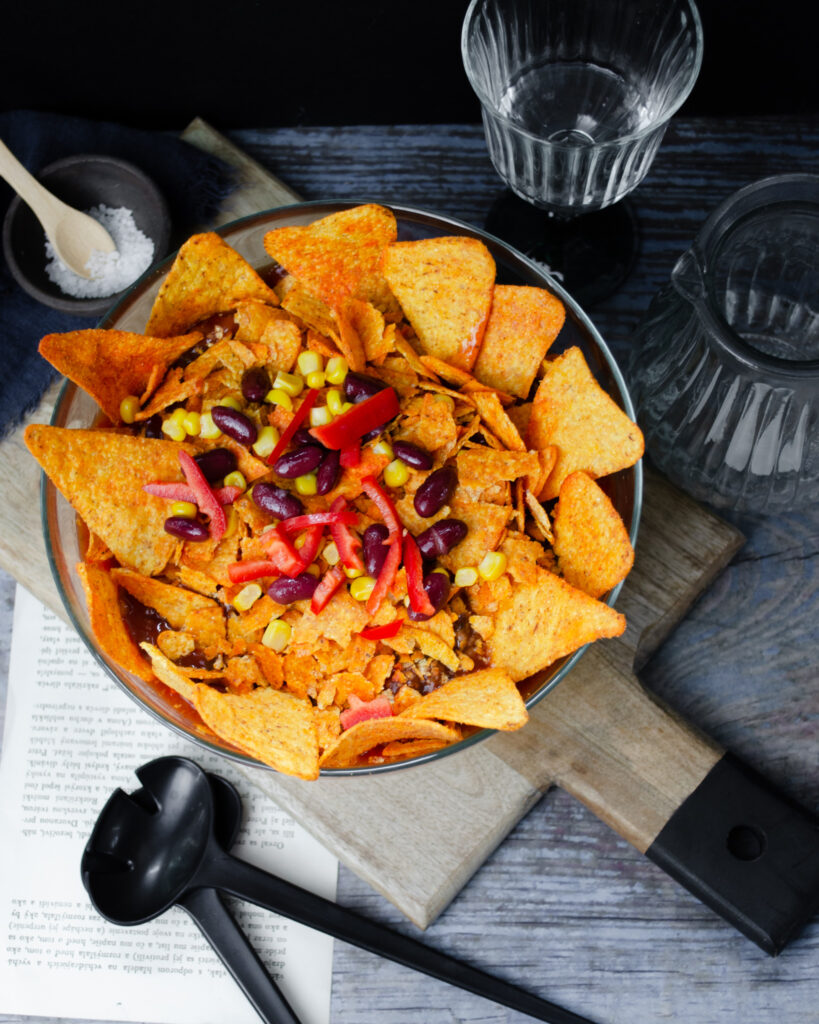 Potrebujete:
300g hovädzieho mletého mäsa
1 cibuľa
1 hlávku ľadového šalátu
1 konzerva kukuričky
1 konzerva fazule kidney beans
3 PL opečenej cibuľky
150ml salsa omáčky
1/2 uhorky
1 červená paprika kápia
soľ, čierne korenie
Pražené tortily alebo čipsy tacos
Postup:
Panvicu si nahrejeme a dáme opekať cibuľu pokrájanú na drobno.
Pridáme mleté mäso a dochutíme soľou a čiernym korením. Pečieme do chrumkava, potom necháme mäso vychladnúť.
Na opečenú cibuľu buď použijeme polotovar alebo si v panvici na nízskej teplote opečime 1 cibuľu tak dlho až dostane hnedastú, chrumkavú konzistenciu.
MEdzitým si pripravíme vysokú nádobu na šalát. Ľadový šalát rozdelíme na menšie kusy, kukuricu a fazľu zlejeme z tekutiny a uhorky a papriku pokdájame na drobno.
Začneme vrstviť. Na spodok nádoby dáme ľadový šalát, na to pečenú cibuľu a kápiu. Osolíme.
Nasleduje vrstva fazuľe, kukuričky a uhoriek. Potom nanesieme vychladnuté mäso, na to salsa omáčku a vrch posypeme rozdrobenými čipsamy tacos alebo do chrumkava opraženou tortilou. Dôležité je každú vrstvu zarovnať až potom pridať ďaľšiu.
Takto pripravený šalát necháme oddychovať v chlade, aspoň 2-4 hodiny.
Mňa tie jesenné farby proste nepustia a akosi sa mi vyslovene žiadajú pestré krémovité polievky pripomínajúce farebnosťou prírodu vonku. Táto kukuricová polievka s mrkvou mimoriadne chutila mojím deťom, zaiste pre jej chuť, ktorú jej dodala sladučká kukurica. Zahusťovať ju nebolo treba, vďaka zemiakom bola dostatočne hustá. Suroviny: 1 veľká kuchynská […]

---

Dnes som dostala chuť na niečo chrumkavé, na spôsob müsli tyčiniek. Ja som použila na plnku orechy a semiačka ale samozrejme aj sušené ovocie je určite chutné. Opäť raz recept, pri ktorom sa môžete riadiť vlastnými chuťami a prispôsobiť si ho podľa potreby výberu potravín doma :). Suroviny na cesto: […]

---

Priznám sa, že tekvica u mňa počas jeseni nikdy nechýba doma. Je tak všestranná a chutí či už na sladko alebo na slano. Tentoraz som z nej pripravila toto krásne krémovité rizoto, ktoré je pripravené bez alkoholu a teda vhodné aj pre deti. Zo šálky s objemom 100ml vám výjdu […]

---