Toto výborné, ľahké bezmäsité jedlo má svôj pôvod v Turecku. Jeho chuť je jemne sladko-kyslá. Lúsky sú krásne jemné a šťavnaté.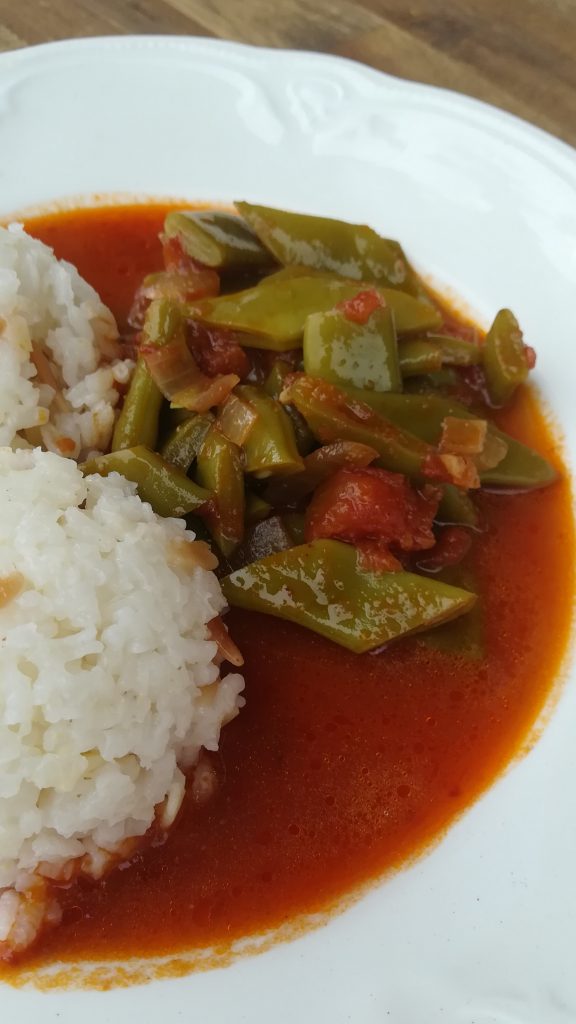 Postup:
Zeleninové lúsky očistiť, drevnaté časti odrezať (konce, prípadne žilku po strane fazule ak sú lúsky už staršie) a pokrájať na širkmo na ca. 1 cm hrubé kúsky (p. obrázok) a tie vložiť do misky.
Keď sú všetky lúsky (ca. 1/2kg) takto pripravené treba ich marinovať. Na to poliať olivovým olejom (1/2 šálky), soľou, čili, 1čl paprikovým pyré (kdo nemá to isté množstvo červenej papriky ako korenia) a čierným korením. Všetko dobre pomiešať a nechať aspoň 1/2 stáť v chlade (môže ale aj celú noc takto marinovať, to je dodá ešte viac jemnosti).
Potom an oleji opiecť 2 cibule pokrájané na drobno, pridať fazuľky a 1/2 dózy pokrájaných ošúpaných rajčín a zaliať 250ml vody. Pridať tiež 1PL kr. cukru prípadne soľ. Prikryté nechať dusiť ca. 25min. do mäkka.
Na záver dochutiť roztlačeným cesnakovým strúčikom, alebo sušeným cesnakom.